Exclusive
EXCLUSIVE: Heidi And Spencer Still Together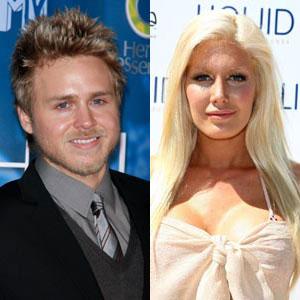 While Heidi Montag and Spencer Pratt are keeping a low profile publicly since their separation, a pal tells RadarOnline.com that privately, the two are still seeing each other.
EXCLUSIVE INTERVIEW: Heidi Montag's BFF Moves On Without Her; Says She's Worried About Hills Star
About two weeks ago, Heidi's pal Lauren Stone stopped by Heidi's house. She wasn't the only guest: Spencer was there as well!
"I saw Spencer, he seems really normal. He actually showed us his new project he's working on," Stone told RadarOnline.com. "He showed us a clip of the movie. I thought it was really funny. I think it's about a lifeguard that's trying to get girls. And the lifeguard is kinda of like a douche-bag type of guy, not too cool."
Article continues below advertisement
Stone, who watched the clip with both Heidi and Spencer, says she has no idea if a reconciliation between the two are in the works but "she didn't even know they were going through a divorce" based on their hanging out session.
EXCLUSIVE: Heidi Montag's Dad Wants Face-To-Face Meeting With Her
Even to her friends, Heidi is keeping mum on her personal life.
"I'm actually not sure what's going on," Stone said. "She didn't really go into details about anything but the way she was acting it just seemed like she was really happy and free and just living life."
With or without Spencer, Stone thinks Heidi is doing just fine: "She's telling us how she's gardening a lot and writing music and she seems to be really happy."