Exclusive
EXCLUSIVE INTERVIEW: Heidi Montag's BFF Moves On Without Her; Says She's Worried About Hills Star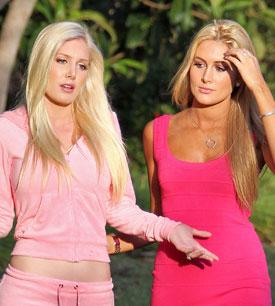 Heidi Montag's longtime friend Jennifer Bunney is moving forward with their reality TV show minus The Hills star. In an exclusive interview with RadarOnline.com, Bunney debunks feud rumors, reveals why she's worried about Heidi, and highlights what to expect from the new show.
Originally, as RadarOnline.com was the first to report, Bunney and Montag were going to live together over the summer and film a reality show. Now, the show is going on without Heidi.
Article continues below advertisement
"She didn't directly tell me she didn't want to do the show anymore. I heard it through other people. She's just going through so much with her divorce and she just doesn't want to do reality television," Bunney said. "We had a big production meeting that was scheduled for two months and I ended up having to go to the meeting alone. They decided to move forward without her. The producers called me and said they were moving forward with or without her."
While there were rumors the Shannon twins -- who have been hanging out with Montag recently -- would be involved, Bunney says the talks are false. As for familiar faces from The Hills of MTV's Laguna Beach, Bunney says: "I haven't talked to any of them yet about doing it but they are my friends and the show is about my life so we'll see."
The new series will focus on Bunney's life which includes going back to school, her recent terrible breakup with a boyfriend, and "being independent for the first time" in her life.
Article continues below advertisement
"We're not in a fight, I'm not upset at her, she's not mad at me," Bunney added wanting to clarify whispers of a rift between the two pals. "I would love her to do the show. I'm hoping that once the show is rolling and a few episodes air, she'll join in. I really want her to do it but I don't want to push her into something she doesn't want to do."
Despite not having any hard feelings towards her friend, Bunney says she is "definitely" worried about Heidi. "This is kind of what she has to do- with a the divorce and The Hills ending- a lot is new in her life and she's not talking to anyone." Though Bunney has always liked Heidi's current beau Cougar Zank, she's beginning to question some of his actions.
"She's going through a lot but I don't understand why Cougar doesn't call or say how Heidi is. I've been her friend for years, before she got famous, before the surgeries, before Spencer... Heidi doesn't even know that I broke up with my boyfriend."
Currently, Bunney is finalizing the contracts for the new show and hopes to start shooting the pilot soon.