Exclusive
EXCLUSIVE INTERVIEW: Gary Coleman's Pals Bashed For Excluding Ex-Wife From Memorial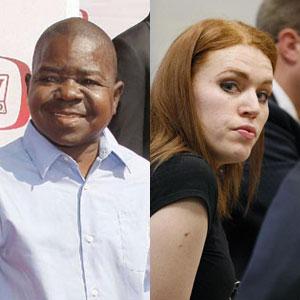 Gary Coleman's friends are being slammed for excluding his ex-wife Shannon Price from a memorial service honoring the Diff'rent Strokes actor, RadarOnline.com has exclusively learned.
In fact, the day before Coleman suffered the fall that proved to be fatal, he begged Price's spokesperson Sheila Erickson to help Price be successful and to take care of her. Erickson told RadarOnline.com in an exclusive interview that excluding Price from the Friday memorial is not what Gary would have wanted.
Article continues below advertisement
Coleman's former manager Robert Malcolm told RadarOnline.com in an exclusive interview Wednesday that Price is not invited to the memorial and it "is for people who can look into each other's faces and remember the good."
However, Erickson told RadarOnline.com exclusively, "It's really sad. It breaks my heart. I know Gary is looking down asking, 'Does anything I say matter?'
"What's so funny is the day before Gary fell he kept repeating himself to me like four or five times a day, 'Help Shannon be successful, take care of Shannon.' These people say they loved Gary, but they're not doing what Gary wanted. It's only for themselves."
The ceremony will be a small intimate group of friends and will be private—just as Gary wished.
"They're alienating her," Erickson told RadarOnline.com. "Gary fulfilled the most important thing in his life before he died and that was having a fulfilling relationship with Shannon and it's so sad that she's being ostracized because she's the one person Gary loved the most."
If invited, Shannon would definitely attend, Erickson said.
MORE ON:
Diff'rent Strokes
Article continues below advertisement
"Of course, she'd like to be there if she felt welcome because she doesn't want all of this contention and have people say, 'You're not supposed to be here.' But why leave Shannon out?
"If it's in honor of Gary, it should honor his wishes," Erickson said.
LISTEN: Gary Coleman's 911 Tape
The Price family held their own memorial for Gary while visiting Shannon's mother's gravesite in Utah last month, Erickson revealed.
"We talked about Gary, talked about memories and shed some tears," Shielia told RadarOnline.com.
But Shannon will get her chance to tell her side of the story, according to Erickson.
She'll do that by writing a book, a development first reported by RadarOnline.com.
"I thought, 'let's do something that no one can take away from her. It will be My Life with Gary Coleman about their life together, happy times, Gary's deepest thoughts and what he went through. It's been very therapeutic for her," Erickson said.