EXCLUSIVE DETAILS: Life Inside Lindsay Lohan's Rehab Center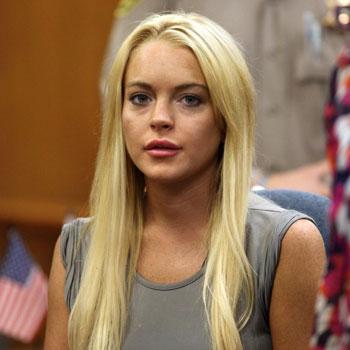 When she is released from Lynwood Detention Center, Lindsay Lohan will be staying at Morningside Recovery in Newport Beach, California, RadarOnline.com exclusively revealed on Friday and we now have inside details on what life will be like for her during her stay.
Cash-strapped Lindsay will be paying $36,500 for her 90-day stay, which is a bargain price compared to the $60,000 that she is rumored to have paid for each of her last three rehab stints. A source tells RadarOnline.com that the average price for treatment is $75,000.
Article continues below advertisement
The former fashionista will be allowed to pack enough clothes for two weeks including indoor and outdoor clothing, personal products (soap, shampoo, toothbrush, etc.), blow dryer, gym clothes, bathrobes and an iPod.
EXCLUSIVE: Lindsay Lohan To Check Into Morningside Recovery
Lindsay will have to be careful about what pills she packs. Banned substances include any medications that aren't pre-approved or without prescription, over the counter medications and anything alcohol-based – even mouth wash!
Following her multiple DUI arrests, Lindsay won't be allowed to have a car or motorbike with her during her stay.
The facility is separated into houses overseen by a House Parent. After living alone in solitary confinement at Lynwood, Lindsay now may be sharing a bedroom and sleeping in a single bed. Each house has a fully equipped kitchen and TV room (that can only be watched during scheduled hours), and the residents are assigned special daily chores along with keeping their own bedrooms clean.
Article continues below advertisement
After being used to partying until all hours, Lindsay will be held to a strict 10 pm curfew in the week and 11 pm on weekends. There'll also be no swanky sushi dinners – her food allowance is $75 per week in the form of a Vons grocery store card in order to "teach important life skills of responsibility, budgeting, and meal planning," says the facility.
Residents are not allowed to spend it on tobacco or alcohol – but Lindsay will still be able to smoke cigarettes outside in certain designated areas.
Lindsay will have more freedom than in Lynwood but won't get her beloved Blackberry back for two weeks and after that usage will be restricted. She will be allowed her laptop though, so look out for her on Twitter!
Along with the food allowance, residents are allowed $40 a week spending money so they can go shopping for personal items, but all trips must be approved and supervised.
The facility has a 'Money on the Books' program, which encourages residents to put down $1500 that can be dipped into for medication, special counseling, haircuts, manicures, theater and movie tickets, and psychological treatment.
Article continues below advertisement
Hardly known as a fitness fanatic, Lindsay is expected to workout during her stay and will be given passes to the local 24 Hour Fitness for scheduled gym time four times a week, plus an optional Sunday run .
VIDEO: Lindsay Lohan Doesn't Think It's "Fair" To Go Directly To Rehab
Fans will be happy to hear that residents can receive mail but all packages are inspected for alcohol, drugs and drug paraphernalia and pornography.
While certainly not under lock and key, residents can request passes to leave with seven days notice as long as they are staying with responsible sober people and detail the date and time of leaving and returning.
Unlike prison, Morningside is not all work and no play – Lindsay can pay to join in group activities like go-carting, yoga, surfing softball, movies, deep sea fishing – and even trips to Disneyland!