Exclusive
EXCLUSIVE: Danielle Staub Calls Cops After Man Who Was Arrested With Her Demands $100,000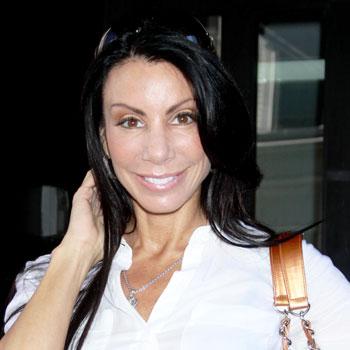 Danielle Staub's past has come back to haunt her and now the police are involved, RadarOnline.com has learned exclusively.
Danny Aguilar, a convicted felon who was once charged as Staub's co-defendant, called the Real Housewives of New Jersey star on Sunday night demanding $100,000 he says she still owes him for bailing her out years ago with some big time drug dealers.
Aguilar told RadarOnline.com "My money got her out of trouble with these drug dealers. They wanted her dead and I didn't want them to kill her. I paid for it. We all got popped, everyone went to jail and she snitched."
Article continues below advertisement
VIDEO: Cops Called On New Jersey Housewives Hair Pulling Fight
Staub was arrested in Miami in 1986 along with Aguilar for extortion and intent to distribute cocaine. Staub entered into a plea bargain with prosecutors and agreed to testify against Aguilar and others in exchange for five years probation and mandatory cocaine testing. Aguliar went to prison.
Aguilar told RadarOnline.com in an exclusive interview that his conversation with Staub on Sunday night quickly turned ugly, with Staub calling Aguilar a "celebrity stalker." She threatened to sue him for defamation of character. Aguilar says he told Staub "I'm the 'Real McCoy, I'm the one that did 15 years in a federal penitentiary over you. I'm no stalker."
Staub contacted police, RadarOnline.com learned. And 15 minutes after they hung up the phone, Aguilar claims a detective from the Wayne, NJ police department called him and told him stalking is a crime in New Jersey.
We spoke with Captain James Clark from the Wayne Police Department who confirmed that Staub was at the station this morning but would not disclose additional information, saying the matter is still under investigation.
A rep for Staub says she has not spoken with Danielle about the incident and had no comment at this time.