Exclusive
EXCLUSIVE: Charlie Sheen Cop In Child Custody Dispute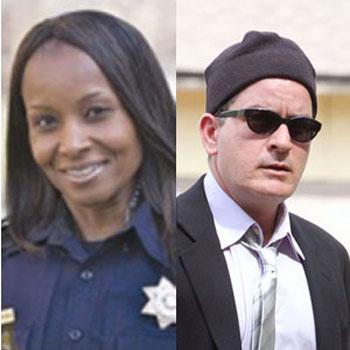 Valerie McFarlane, the disgraced former cop in the middle of the Charlie Sheen domestic assault investigation, is embroiled in a child custody case, RadarOnline.com can exclusively reveal.
McFarlane, who handled Brooke Mueller's interview following her altercation with husband Charlie Sheen, says she was "forced to resign" from the Aspen PD following a series of incidents where her behavior was called into question. She has two teenage daughters with Alex Bracero, who tells RadarOnline.com that he believes his ex-girlfriend is in violation of their custody agreement and he's headed back into court.
Article continues below advertisement
"I want her to follow the rules. I want to see my kids," Bracero tells us.
Bracero and McFarlane lived together in Florida before they split four years ago. They originally were able to work out custody but things got sticky when McFarlane moved to Colorado.
"She moved there for the job with the police department which she said was really important to her," Alex explained. According to Alex, he "agreed to let her have full custody but she was required to send the girls back to me in Florida every summer. They are supposed to be with me from the first weekend following their last day of school to the last weekend before school starts up again in September.
"She's found all sort of excuses not to send them this summer, and it's not right. She managed to lose her job but she's still living beyond her means and she claims she can't afford to send the girls to me."
Since his split from McFarlane, Bracero has married and fathered two children. He's a service tech with a TV cable company, who supports his family and pays $600 a month in child support to McFarlane for their daughters Adriana, 14 and Jordan, 13.
Article continues below advertisement
As RadarOnline.com exclusively reported, McFarlane is now working for a supermarket outside of Aspen where part of her training includes bagging groceries.
EXCLUSIVE: Cop In Sheen Assault Case Now Bagging Groceries
Bracero claims that his ex is "living in a $3,000 a-month rental and has $300 a-month car payments," and that "she had a motorcycle too but that was repossessed. She's always lived big which was one of the things that brought about our break-up."
A few weeks ago, McFarlane informed Bracero by email that she wouldn't be sending him the girls for the summer. She claimed that after being "forced to resign" from her job, she was not able to get unemployment and she had no income. But Bracero claims their court agreement mandates she send him the kids for the summer at her expense.
EXCLUSIVE: Read McFarlane's Email To Bracero Here On RadarOnline.com
"I've been trying to get the money together to get her back into court," Bracero says. "It's complicated and expensive because there are two states involved.
"There are a lot of men out there who don't care about their kids. I do. I've always paid my child support and I want to be in my daughters' lives.
"She let her involvement in the Sheen case go to her head and she messed up her job."