Exclusive
EXCLUSIVE: Cop In Charlie Sheen Assault Case Now Bagging Groceries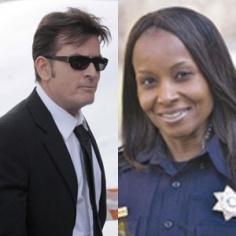 The cop who interviewed Brooke Mueller after Charlie Sheen allegedly held a knife to her throat is now working in a grocery store, RadarOnline.com has learned exclusively.
Valerie McFarlane resigned from the Colorado Police Department following a series of incidents and Sheen's legal team planned to attack her credibility in any future trial.
McFarlane is now working as a customer relations manager at the City Market in El Jebel outside Aspen. As part of her training she has been learning everyone else's position --and even bagging groceries.
Article continues below advertisement
A worker at the store told RadarOnline.com: "Yes, she does work here."
McFarlane resigned from the police department and has been mired in controversy. She was accused of attending and gaining free entry to the Jazz Aspen Snowmass Labor Day Festival in her police uniform while off duty, which would be a direct violation of department policy.
She also was accused of gaining VIP access and sneaking her daughter and her daughter's boyfriend into the VIP area.
Meanwhile, the other officer who responded to Mueller's Christmas 911 call, Rick Magnuson, made headlines after a video was released of him simulating masturbating in the Mojave Desert – and now he's, running for sheriff of the Colorado Police Department, RadarOnline.com has learned.
See Bizarre Video Of Officer Magnuson In Action:
The controversial cop, who interviewed Sheen following the alleged assault, lost an election bid for sheriff four years ago when he was defeated by presiding Sheriff Bob Braudis.
Article continues below advertisement
AUDIO: Brooke Mueller's 911 Call "I'm Scared For My Life"
Although he ran on a tough anti-drug ticket, when he was questioned during a live television debate in 2006 Magnuson boasted that he used illegal drugs while employed in law enforcement – adding that he used them only once while in Amsterdam where they are legal.
RadarOnline.com has also learned that the house on West Hallam Street where the alleged Sheen assault took place is still up for sale after being on the market for 433 days.
It was originally listed for $8.25 million, then it dropped to $7.5 million a few months before the alleged incident. It's currently on the market for $6.995 million.
RadarOnline.com reported Friday that Sheen's lawyers and the District Attorney's office in Aspen are edging 'closer' to a plea deal.
The Two And A Half Men star has been charged with felony menacing and two misdemeanors: 3rd degree assault and criminal mischief, in connection with his alleged assault on Mueller.
The actor has pled not guilty to all three charges. If convicted on all counts, he could face from two to six years in jail.