Erin Andrews To Push Tuesday For Tougher Anti-Stalking Laws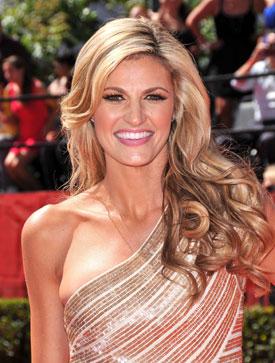 ESPN reporter and Dancing With The Stars alum Erin Andrews is in Washington, D.C. Tuesday to demand tougher anti-stalking laws, and RadarOnline.com has details.
Andrews made national news in 2009 and unwillingly became an Internet sensation when a stalker posted nude videos of her secretly recorded in a hotel room she was staying in.
Sen. Amy Klobuchar, D-Minnesota, will introduce the Simplifiying The Ambiguous Law, Keeping Everyone Reliably Safe Act, also known as STALKERS.
Article continues below advertisement
Reps. Loretta Sanchez, D-California, and Virginia Foxx, R-North Carolina, introduced the legislation in the House last week.
"Physical stalking, cyberstalking, and other acts of intimidation are serious crimes that deserve serious consequences," Sanchez said in offering the bill. "But the reality is our laws don't do enough to protect victims and empower prosecutors. This bill would strengthen existing laws to ensure all forms of harassment are taken seriously in the eyes of the law."