DVD Review: Greenberg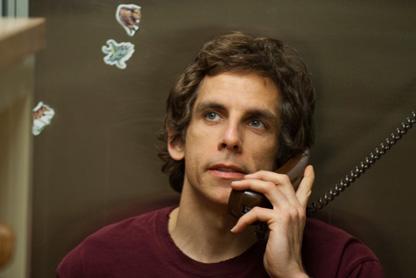 Look out Los Angeles, because Roger Greenberg (Ben Stiller) is arriving with the weight of the world on his shoulders -- not to mention a bad case of a man-child syndrome, crippling narcissism and feet stuck so deep in the past that he just can't hang. Oh, and he likes to complain. A lot.
Not that anyone wants to hang with Roger. Greenberg, the latest work from director Noah Baumbach (The Squid and the Whale), is a character study about a guy who's fundamentally unlikable. He arrives at his wealthy brother's house after a mental breakdown but to the naked eye, he's still not functional -- and forget about having any fun. While he insists on doing "nothing" (read: couch-surfing, drinking, whining), he makes time to try to bed his brother's pretty blond assistant, Florence (Greta Gerwig), in painful fits and stars of a make-out session here, messy hook-up there and -- oops! -- a vicious verbal rant gone way, way too far.
Article continues below advertisement
Wincing through strained conversations with everyone from his old bandmates to his ex-girlfriend (Jennifer Jason Leigh, who also co-wrote and produced the film), Greenberg is tough to love. Each time he seems to have said the most mouth-droppingly selfish, inappropriate or delusional thing, he tops himself. In the DVD extras, Stiller admits that his character isn't an easy one to warm up to, but thinks Roger comes around, eventually. (Viewers might disagree).
DVD Review: The Girl With The Dragon Tattoo
Eventually, Roger does show a hint of adulthood -- however faint. But for most of us, it will seem like too little, too late, in a tale that's watchable not for its comment on life (insert adjectives like poignant, touching, life-affirming), but for its genius writing and spot-on take on life in L.A. for the young and aimless. In an extra called "Greenberg Loves Los Angeles," Baumbach talks about his affection for the city. Although admittedly, he doesn't specifically reference rich families with nannies, empty rolls in the sack or ironic tees that flesh out his film, the love is loud and clear. Still, Greenberg, for all its preciousness, captures the feel and the pace of life there for people who aren't perfect or even fun but, fundamentally, just want to be happy.