DVD Review: Chloe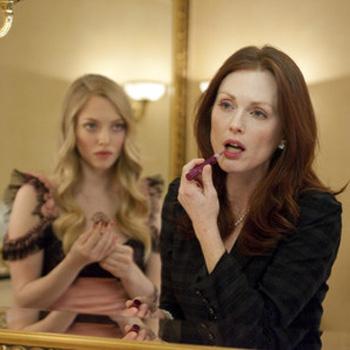 Chloe's seduction begins from the get-go. Starting in a small bedroom, Amanda Seyfried slips into lacy pieces of lingerie, with her hair flowing down her back and a voice-over about how she's a master of the flesh. This is no kid stuff: welcome to a Euro-style love triangle that unfolds painstakingly slowly, but reveals a new layer of intrigue with each surprising turn.
Article continues below advertisement
Our little vixen, however, isn't glamming up for the fun of it. As the resident lady of the night, Seyfried plays Chloe with a creepy mix of innocence, manipulation and pure sex appeal. The sassy beauty stirs up trouble when a doctor (Julianne Moore) suspects her husband (Liam Neeson) of cheating, and hires Chloe to get to the bottom of things (so to speak). Pretty soon, lust heats up and the lies start flying -- but not from who you think! Dr. S has some secrets of her own, while Chloe's angelic face hides another agenda that throws a wrench in the works.
What began as an game of curiosity is suddenly far from light-hearted, and the doc is in way over her head. Dr. S's issues feel all the more awful because Moore is completely believable as a woman who's filled with anguish about her icy marriage, her distant teenage son, and getting older while hot young things flit by. (Her husband is a college professor. Need we say more?)
The DVD includes commentary from Seyfried, screenwriter Erin Cressida Wilson and director Atom Egoyan, as well as a meaty making-of featurette, which offers a helpful break-down of the film's major themes. The featurette also offers a glimpse at what the film's stars and producers have to say about it, which ranges from calling it "dangerous" to "erotic." Chloe isn't a relaxing pick for a sultry summer night. Still, with a solid cast, steamy scenes and secrets galore, it's also a guilty pleasure, with serious subjects dressed up in black, lace and lies.