DVD Review: The Girl With the Dragon Tattoo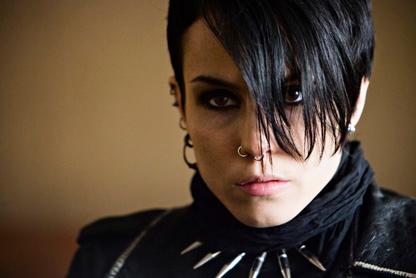 Right now in Hollywood, actresses from Kristen Stewart to Keira Knightley are rumored to be chomping at the bit to play Lisbeth Salander, the bad-ass, bisexual hacker at the center of The Girl with the Dragon Tattoo. But long before American casting buzz started heating up, the Swedes made their own version of the movie, which arrives this week on DVD.
Based on Stieg Larsson's best-selling book, Dragon Tattoo is the story of Lisbeth (Noomi Rapace), who's seen her her share of trouble, and embattled journalist Mikael Blomkvist (Michael Nyqvist), who's framed in a corporate tussle. When they team up to investigate the mystery of a woman who's been missing for forty years, they're suddenly in over their heads in the dark secrets of a wealthy family, as both bullets and sparks fly in a desolate island town.
Article continues below advertisement
It's easy to see why A-listers would line up to play Lisbeth. Unlike most Hollywood heroines, Lisbeth is nobody's fool -- and certainly no damsel in distress. Full of piercings and rage, she's as tough as nails and doesn't fall into conventional roles: When it comes to both saving lives and sexy-time, she runs the show. Forget low-cut tops, flowing hair and hottie male heroes. There's no room for vanity here, especially when it's two degrees out on a frozen farm in Sweden.
As Mikael falls for this unusual woman, so do we. It's not just that she rides a motorcycle at full-speed, punishes bad guys with ballsy tactics or outwits everyone, it's that she's sassy, unapologetic and sports combat boots like a pro. Lisbeth's fans can savor juicy extras on the DVD, including interviews with director Niels Arden Oplev and actress Noomi Rapace, as well as an in-depth look at the nasty Vanger clan's family tree. While the American edition won't arrive anytime soon, the original Tattoo is a deliciously fun, fast-paced and taut thriller that should tide audiences over until Hollywood takes its turn.