COURT DOCUMENTS: Action Star Steven Seagal Files Restraining Order Against Alleged Serial Stalker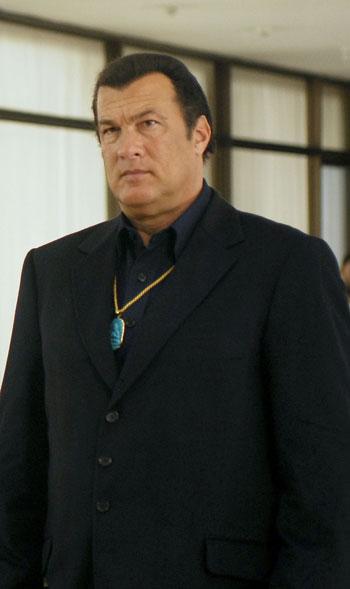 Instead of beating up bad guys, action star Steven Seagal is seeking protection from a 55-year-old woman and has filed a restraining order against her after she allegedly broke into his house for the third time and attacked one of his employees, RadarOnline.com has learned.
COURT DOCUMENTS: Insert Link
According to papers that were filed with the Los Angeles Superior court on Thursday, Angela Rain Bates, 55, showed up at the actor's home on the evening of July 14th and waited outside until the gate was opened, then ran onto his property.
Article continues below advertisement
When she was blocked from the house by Seagal's groundskeeper, she then allegedly threw two rocks through a window and kicked him violently in the leg and shin. Police were called, who found her sitting on top of a rock wall. Bates was arrested on site and booked for felony vandalism.
During her interview with the police, Bates stated her delusional belief that she was married to Seagal's father - who has been dead for two decades - and that she had lived at Seagals' house with his dad for over 20 years and that the property was hers.
Steven Segal's Accuser Drops Sexual Harassment Lawsuit
Troubled Bates has apparently had a fascination with Mr. Seagal since at least early 2009 and has admittedly pursued and engaged in a pattern of conduct in harassing and stalking the actor and his family, including leaving multiple phone messages, sending written letters, and showing up at his home on at least three occasions before ultimately laying in wait outside for an opportunity to gain access.
While in custody she complained in custody of suffering from sunburn and was treated by a doctor.
EXCLUSIVE: Steven Segal's Accuser's Confidentiality Agreement Revealed
Bates is described in the legal papers as "a mentally ill and delusional stalker who compulsively seeks communication with and gain access to Petitioner (Seagal)," having engaged in "incidents of violence and vandalism."
In the declaration from Detective Christine Jackson, she states that she believes Miss Bates "suffers from mental illness." She is currently being held for psychiatric evaluation