Medication Misery: Brave Yolanda Foster Shows Off 'A Whole Lot Of Pills' She Takes In Her Battle With Lyme Disease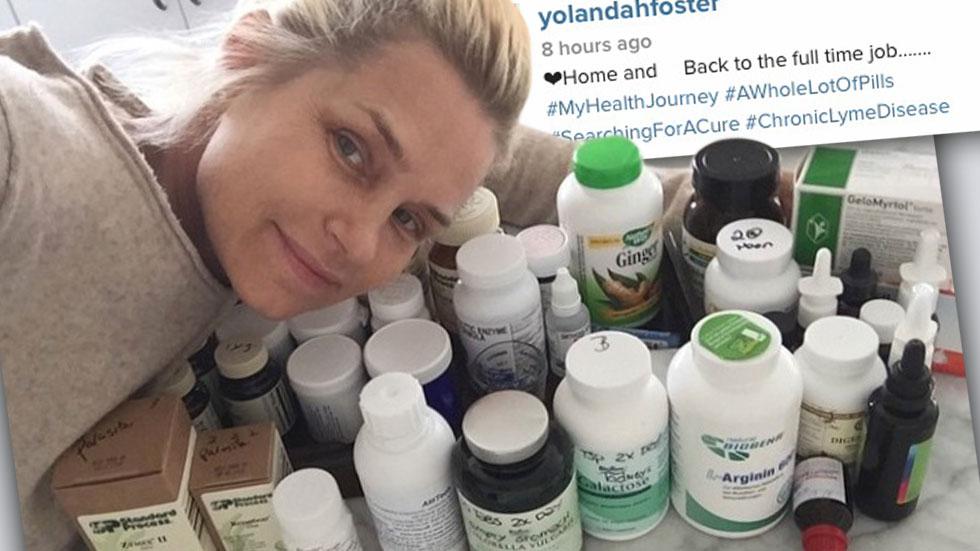 Yolanda Foster continued updating her fans on her grueling fight against Lyme disease, showing off dozens of medications she takes to keep her health intact on Instagram.
The Real Housewives of Beverly Hills star, in the photo she posted Wednesday, is leaning on the side of the pic looking beautiful, but tired, hovering over dozens of medications, some prescription, some over-the-counter.
"Home and Back to the full time job," the 51-year-old, returning from a trip to Germany, wrote. "#MyHealthJourney #AWholeLotOfPills #SearchingForACure #ChronicLymeDisease."
Article continues below advertisement
https://instagram.com/p/2pWoFlIs7q/?taken-by=yolandahfoster
The mother-of-three last week revealed she'd undergone stem-cell therapy while abroad to "strengthen her immune system" and "destroy the silent killer inside of me."
As RadarOnline.com previously reported, the Dutch model's music composer husband, David Foster, has been adamant that she quit the Bravo reality show in her valiant, but exhausting, battle with Lyme disease.
"David is just being protective because he doesn't want any of the ladies to use her illness against her, as he knows those women are vicious," a source told RadarOnline.com. "Yolanda is extremely weak, and her memory is suffering ... the Lyme disease is just ravaging her."