Exclusive
'Yoko Is In A Very Bad Way': Lennon Widow Confined To Wheelchair, Pals Fear Worst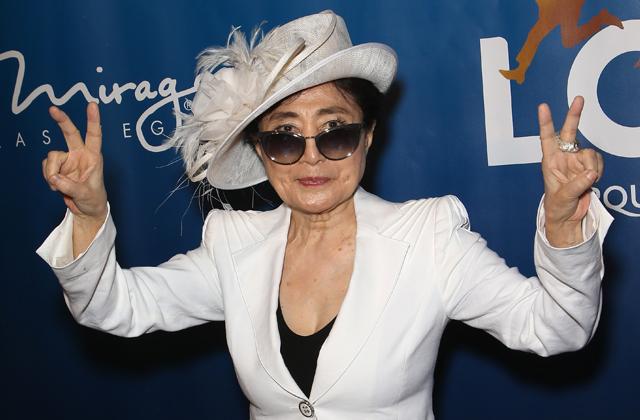 Fragile Yoko Ono is confined to a wheelchair at 84, prompting fears the frail widow has just months to live.
"Yoko's in a very bad way right now," reveals an insider. "She's rail thin and not doing well at all. She's always had such a great spirit, but that spark is almost gone now.
"Yoko talks about her husband John and how she's hoping to see him again in heaven.
"It's as if she knows she's dying and is preparing for the end."
Article continues below advertisement
Clutching her purse while sporting oversized, round sunglasses and a gray man's hat, Yoko appeared gaunt and listless during a recent protest in New York City. Too feeble to hold up a picket sign, she looked like a shell of her former robust self while meeting up with Whoopi Goldberg, who was demonstrating with the crowd.
A week earlier, when she arrived at JFK airport, an assistant had to push Yoko through the terminal, say witnesses.
The woman responsible for breaking up the Beatles is now begging for forgiveness from Paul McCartney, 74, and Ringo Starr, 76, John's two remaining bandmates, say sources.
Not long ago, Yoko, desperate to mend fences, tried to make a connection with Paul and Ringo in Las Vegas during a Cirque du Soleil production of "The Beatles: Love." But the close encounter ended badly.
"Once she was there, she put on a great big show and tried to get close to them so she could ask them to finally make peace with her after all these years," says an insider. "But they didn't want to listen to her because they think she's insincere."
Article continues below advertisement
That night, as the two Beatles posed for photos on the star-studded red carpet, they made it clear they didn't want to be anywhere near her.
And now it appears that was her last chance for forgiveness.
The fading musician, who weighs a frightening 89 pounds, was married to her beloved John for 11 years before he was gunned down on a New York City street in 1980.
Yoko has had her share of health scares recently. On Feb. 26, 2016, she was rushed to a New York hospital for a complicated strain of the flu, according to her spokesman.
That trip, in her severely weakened condition, prompted her to get her affairs in order, say insiders. She also decided to bury the hatchet with Paul and Ringo, despite the cold shoulder they've given her over the past four-plus decades.
We pay for juicy info! Do you have a story for RadarOnline.com? Email us at tips@radaronline.com, or call us at (866) ON-RADAR (667-2327) any time, day or night.