Too Little, Too Late? Vicki Gunvalson Finally Apologizes After Brooks' Cancer Scam: 'Forgive Me!'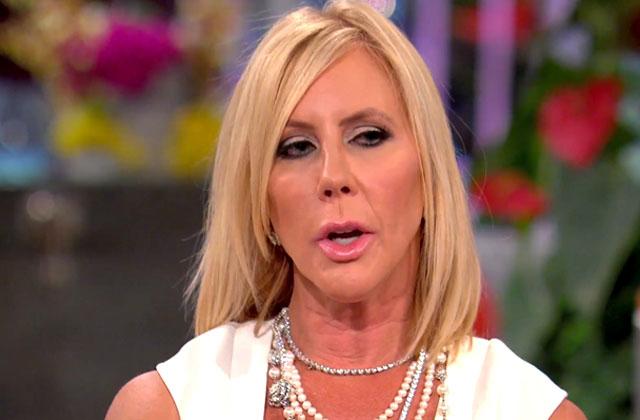 On last night's season 11 premiere of The Real Housewives of Orange County, Vicki Gunvalson finally admitted she was wrong in defending her then-boyfriend Brooks Ayers' cancer lies last year. But is she truly sorry?
At the beginning of the episode, fans learned that Gunvalson's ex-best friends Tamra Judge, Shannon Beador and Heather Dubrow had not spoken with the O.G. of the O.C. in months. However, Dubrow said she had had a change of heart about the broken relationship after her husband Terry suffered a health scare.
Article continues below advertisement
"It made me look at life a little bit differently. Life is short, and we need to make amends to people," Dubrow told her man at the dinner table. "Everyone deserves a second chance."
In a head-scratching move, Dubrow decided to invite her former BFF to a luxurious yacht party coming up in the following days. (Viewers knew this could only go very, very badly.)
As the cameras checked in with Gunvalson, she boasted she had lost weight, and finally kicked Ayers out of her home.
Though she was faced with proof of Ayers' lies regarding his alleged illness last season, the 54-year-old grandmother admitted she had a difficult, if not impossible, time letting him go.
"I do miss Brooks, he was my best friend," she said wistfully. "The night he moved out, I laid in the street and begged him not to go. I said, 'I don't care about your medical records. I don't want you to leave. I know you're sick!'"
Article continues below advertisement
But Ayers moved out, she said, insisting the longtime romance was fated for failure.
She confessed to the cameras that she "did not handle things correctly at times" during the dramatic ordeal, which resulted in the loss of all her friendships.
But, in a shocking statement, she claimed she would not act differently if she could revisit the past.
"If I could do it all over again, I would defend my man," Gunvalson insisted.
The reality star sang a very different tune when she later confronted Dubrow at the yacht party and began her grand mea culpa after an icy reception from the other ladies.
"I went about everything wrong last year, and I'm sorry," Gunvalson told Dubrow while speaking alone on the yacht's lower deck. "I didn't want to believe what you guys were saying. I was fighting to hang onto something that was slipping through my fingers. I want to ask for forgiveness. Forgive me!"
Article continues below advertisement
Next week, fans will see Dubrow's reaction, and ultimately witness some drama stemming from the chat. In the previews for next week, Gunvalson breaks down in tears on the car ride back from the bash.
The one friend the RHOC villain has? New cast member Kelly Meza Dodd, who previously met Gunvalson at the dermatologist's office. But it won't likely last very long, as Meghan King Edmonds warned the newbie that her longtime nemesis can't be trusted.
Should Heather accept Vicki's apology? Sound off in the comments.