Does Kylie Know? Tyga Secretly Files For Bankruptcy — Inside His Cash Crisis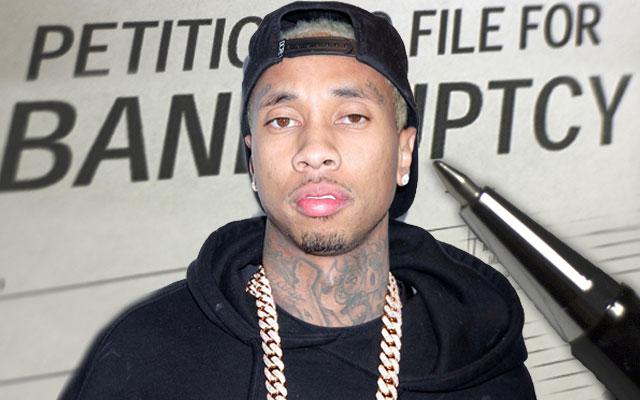 Tyga has some serious financial skeletons in his closet!
As RadarOnline.com has reported, Kylie Jenner's 26-year-old boyfriend is known to brag about his fleet of fancy cars, pricey threads and blinging jewels, but as it turns out, his lifestyle may be just a facade.
RadarOnline.com has obtained court documents that show that Tyga, whose real name is Michael Nguyen-Stevenson, filed for Chapter 13 bankruptcy back in December of 2010.
Article continues below advertisement
The landlord of Tyga's Tarzana, Calif rental home sued him for $88,469, which he was awarded when the rapper neglected to show up to court. Then, Tyga racked up over $35,000 in interest due to failure to pay promptly.
According to the documents filed in Los Angeles County, Tyga was flat broke at the time of his 2010 filing - he listed his assets at between $0 and $50,000. His liabilities, on the other hand, were listed at between $100,000 and $500,000.
The banks, however, were not buying his claims.
HSBC accused Tyga of making a bogus filing in order to get a freeze on his bills, presenting evidence that he had transferred property to other parties in an effort to hide them from the court. In February 2011, Tyga's bankruptcy case was dismissed due to his failure to make the required filings. None of his debt was wiped clean.
Dump The Chump! Kylie's Family Urging Her To Ditch Boyfriend Tyga