Exclusive
Todd Chrisley Drops Custody Bombshell In Fight For Baby Chloe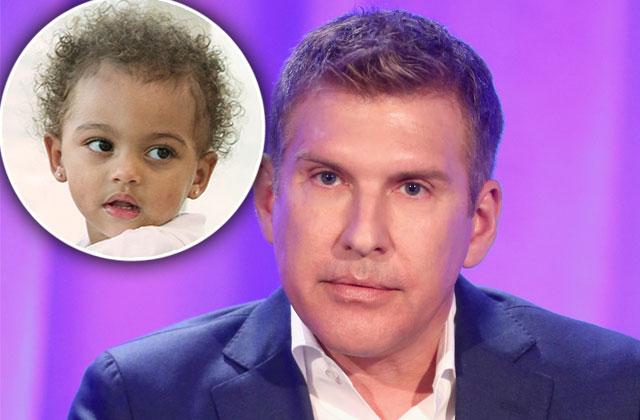 Chrisley Knows Best is losing one of fans' favorite cast members, RadarOnline.com has exclusively learned, since Todd is taking granddaughter Chloe off the air.
Todd, 47, and wife Julie, have had full custody of their granddaughter Chloe since 2014, when Todd's estranged son Kyle suffered a mental breakdown and the courts placed Chloe in the permanent care of her grandparents.
Since then, Kyle's health has improved, but Todd and Julie still care for the adorable girl. And that has led to some serious family feuding.
Article continues below advertisement
In 2015, RadarOnline.com obtained an exclusive document from Todd's lawyers, stating that Chloe — who was three-years-old at the time — would be staying on the hit reality show despite Kyle's request to take her off.
However, that all changed recently when the courts ruled in favor of Kyle — who demanded that the only way Chloe should be allowed to continue appearing on Chrisley Knows Best was if HE was going to be getting paid!
"Kyle wanted to get paid or he was threatening to sue the network," Todd told RadarOnline.com. "There was no other choice than to pull her from the show."
According to the self-made millionaire from Roswell, Georgia — who has turned his family's reality show into a growing Chrisley empire, "At the end of the day, we had to do what was best for Chloe. We did not want to drag her through all this and there was no way that we were going to pay Kyle a penny."
Article continues below advertisement
"Listen, we would love to have Chloe back on the show. Chloe absolutely knows that she is no longer a part of the TV show because she asked me, 'Papa, why am I not on the show anymore?'" Todd said.
But — even though Chloe is no longer on Chrisley Knows Best, Todd insisted that NOTHING has changed when it comes to the terms of her custody!
"Nothing has changed and nothing will change," Todd insisted, adding, "I have not spoken to Kyle and I do not plan to. But we will continue to give Chloe the life that she deserves and all of the love in the world."
Do you think Kyle Chrisley should get paid for Chloe Chrisley being on 'Chrisley Knows Best'? Tell us your thoughts below.