The Tables Are Turned! Teresa & Melissa BFFs After Jacqueline Fight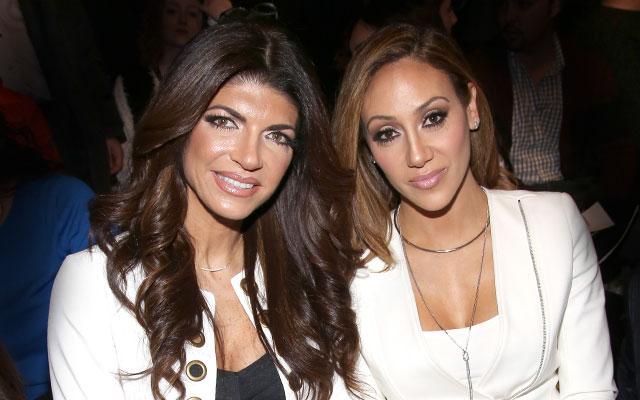 The tables have officially turned!
While Teresa Giudice and Melissa Gorga seemingly ended their family feud at the beginning of filming for the new season of Real Housewives of New Jersey in December, RadarOnline.com has learned that the two women are developing a bond deeper than just pretending for the cameras.
"Teresa and Melissa are real friends," a source told Radar. "They are getting along very well."
Article continues below advertisement
In fact, the two reality stars were spotted hanging out together and looking more than chummy at their new costars Robyn Levy and Christina Flores's Autism fundraising event at Midland Brew House in Saddle Brook, NJ on March 15.
"Melissa arrived with her husband Joe first to the event, but as soon the Giudices walked in the door, Melissa ran over and grabbed Teresa like she was excited to see her," a witness told Radar. "Melissa and Teresa then hugged and chatted with their husbands and a few friends for several minutes. They were all smiles and didn't seem to have any hate going on between them."
After the greetings finished, "the Joes moved to the other side of the room while Teresa and Melissa side-by-side walked around saying hi to people," the witness said. "They seemed in good spirits and to be enjoying each other's company."
According to the witness, Gorga, 36, and Giudice, 43, happily posed for shots with Levy, 34, and Flores, 37, and even spent about 15 minutes smiling for pics with other party goers.
Article continues below advertisement
After the photo-op ended, the two women joined their husbands at a VIP booth and spent the night laughing, talking and having a good time.
"The way they were acting, you would never know that they used to be enemies," the witness said. "They seemed like they were genuine friends."
On top of reconnecting with each other, Gorga and Giudice seem to have developed an alliance with Levy and Flores following Jacqueline Laurita's meltdown on the cast trip to Vermont last week, which caused the new couple to be sent home early.
Jacqueline Laurita was also obviously missing at the Autism event, the witness noted.
"There are certain cast members that didn't go last night and that's because of everything that happened in Vermont," the source said. "There are certain women causing drama."
As Radar previously reported, Giudice and Gorga have ended their friendship with Laurita after realizing that she "has been trying to stir things up behind the scenes this year," an insider claimed.
But despite Laurita threatening to "go public with all of Teresa and Melissa's dirty laundry" including "rumors about Joe cheating on Teresa while she was in prison," the sister-in-laws "aren't that concerned about what Jacqueline will say about them," the insider insisted.