Ted Cruz's Sister Arrested For Public Drunkenness, Drug Possession, Theft Before Overdose Death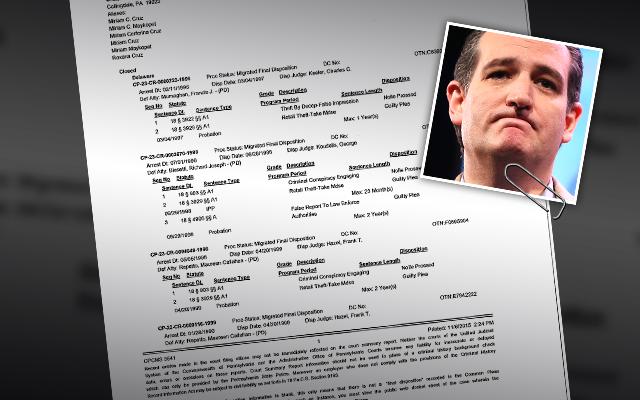 Republican presidential candidate Ted Cruz has spoken out about his late sister, Miriam, who "slowly surrendered to her wild side" and succumbed to a drug overdose, aged 49, in 2011.
"It was heartbreaking," the conservative Texas senator, 44, wrote about the tragic death in his book, A Time for Truth. "I loved my sister, and she spent much of her life trapped by the demons of addiction and anger."
Now, RadarOnline.com can reveal exclusive details about Miriam's life of crime, which included at least ten arrests and several prison stints around Delaware County, Pennsylvania, just outside Philadelphia.
Article continues below advertisement
According to court documents, on February 11, 1996, the young single mother of Joe, then 11, was arrested for theft by deception or false impression and retail theft. She pled guilty to the latter charge, and received one year of probation.
THE SAD PROOF— READ THE COURT SUMMARY
Less than two years later, on May 5, 1998, she was arrested again for retail theft, and also engaging in criminal conspiracy.
She was slapped with two years of probation.
But just under two months later, on July 1, 1998, she was again arrested for retail theft and engaging in criminal conspiracy, and also making a false report to law enforcement. She pled guilty to the last two charges, and was sentenced to a minimum of two months in prison.
Suffering from financial problems, Miriam served 196 hours of community service in place of nearly $1,000 in court costs. She was also ordered to undergo a drug and alcohol evaluation.
Article continues below advertisement
She was arrested one more time for retail theft in 1999 before a period of law-abiding behavior.
Around this time, Ted says his sister showed improvement, and was able to care for her son.
But five years later, she was back to her reckless behavior— and the consequences only got worse.
She was arrested for retail theft in June 2004, and cuffed again for engaging in criminal conspiracy, receiving stolen property, and retail theft that August.
The Court of Common Pleas sentenced her to a maximum of 23 months in prison.
In 2007, she was arrested for six felony counts relating to identity theft.
The year before her untimely death at just 49, Miriam was arrested three times, including charges for public drunkenness, disorderly conduct, possession of a controlled substance and possession of drug paraphernalia.
While awaiting trial for the multiple charges, she died from an overdose on January 10, 2011, in Darby. Pennsylvania.
Miriam left a son, Joe Maykopet, now 30, whom his uncle Ted has called a "strong and responsible young man."
As RadarOnline.com previously reported, fellow Republican presidential candidate Carly Fiorina, 61, also lost a close family member to drug addiction.
Fiorina's stepdaughter Lori Fiorina Feathers was arrested for an extreme DUI two years before dying from an overdose at just 35 in 2009.
In October, RadarOnline.com learned that Feathers was deep in debt and even lost her home to eviction just days before her sudden passing.