'Sister Wives' Dark Money Secrets: Kody Brown's Monthly Income, Expenses Revealed In Hush-Hush Bankruptcy Filing--- Polygamous Patriarch $230K In Debt!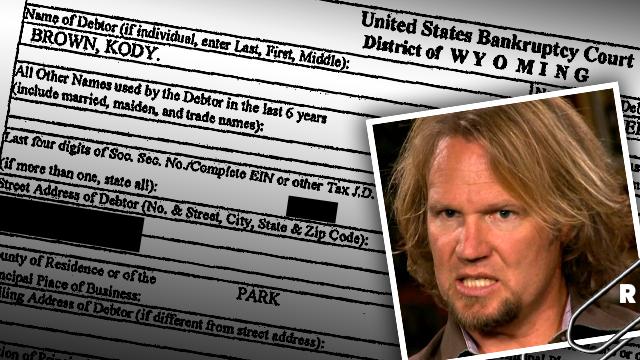 Sister Wives patriarch Kody Brown's polygamous family kept all their dirt swept under the rug. That is, until a report emerged about wife #1 Meri's affair with a man who may or may not be an online catfish.
And now there's more. Kody and his first wife Meri quietly filed for bankruptcy on June 6, 2005, after struggling to support their family of three wives and a dozen young children. (Ten years later, Kody has four wives and a whopping 17 children.)
Article continues below advertisement
According to United States Bankruptcy Court documents obtained exclusively by RadarOnline.com, Kody and Meri, who were the only couple to be legally married at the time, claimed they had only $10 cash and $5 in five joint bank accounts.
THE PROOF! READ THE SHOCKING COURT DOCUMENTS
However, they owed $229,873.49 to creditors, including nearly $137,000 in mortgages on their Powell, Wyoming home, about $7,300 in car loans, and roughly $40,000 in credit card debt.
They also ran up a tab of nearly $2,800 at Sears department stores, around $8,000 at the Home Depot, and $1,300 at Best Buy.
They also had numerous collection agencies chasing them for their staggering debts.
Before their reality TV fame, Kody and Meri, 44, were scraping together pennies for their giant brood.
According to the bankruptcy docs, the now 47-year-old was pulling in $4,000 a month as a salesman at a Billings, Montana, sign shop, and his #1 wife was making just $625 a month as an engraver at an awards company.
Article continues below advertisement
The case was closed on December 7, 2007, and the couple was ordered to pay $187,885.74 to secured creditors, trustees and attorneys.
Today, Kody and his clan make big bucks off their TLC reality series, and the wives, also including Janelle, Christine and Robyn, run a jewelry line called My Sisterwife's Closet.
Though they've kept out of the red since those days, Kody, Meri and the family have other sorts of scandals on their hands.