Inside Sherri's Surrogate Son's Sad Life: He's Sick & Calls Others Mama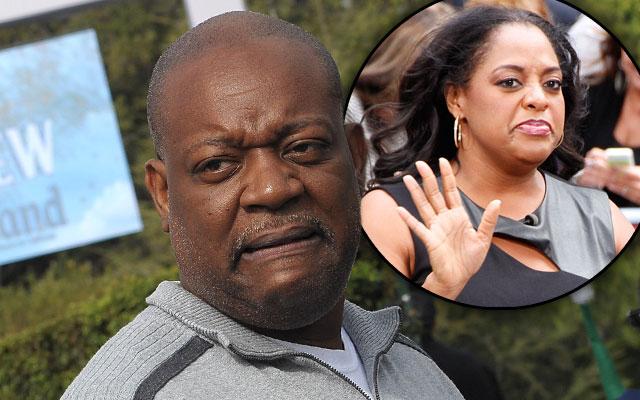 Sherri Shepherd may be trying to appeal a Pennsylvania court ruling stating that she has to pay child support to her ex-husband Lamar Sally, but as she continues to fight the legal system, the former couple's one-year-old son Lamar Jr. (LJ)—who was born via surrogate—is battling a disease known as G6PD.
According to G6PD.org, it "is a hereditary abnormality in the activity of an erythrocyte (red blood cell) enzyme," and the enzyme "glucose-6-phosphate dehydrogenase (G-6-PD), is essential for assuring a normal life span for red blood cells, and for oxidizing processes."
Article continues below advertisement
This diagnosis is causing little LJ constant doctors visits.
"We have to get tested again to see how severe it is," Sally—who is working on a new reality show about his life as a single dad—told RadarOnline.com exclusively.
LJ also has to follow a strict diet.
"He's on a diet of organic food, so there are certain foods he just can't eat, and the list is literally getting longer every day," Sally, 44, said. "Every time I go to the doctor's office, they give me a new list of things he can't eat. One of the most important things is fava beans—he can't eat those."
As far as the LJ's future, his situation could get worse.
"He can become anemic and in rare cases, it is fatal," Sally admitted. "I just try to think positive, and just stick to his diet, and just hope for the best and that he will be okay."
Unfortunately, Sally faces a lot of responsibility raising a sick son alone.
"Sherri has literally made my life a living hell as far as what she's done, what she's done to my reputation in the media, what she has just put me through," he said. "I'm $100,000 in debt because of this, lawyer fees."
Article continues below advertisement
"She's left me to be a single parent of a sick child and it's just not right," he said. "And to have it come from someone that I loved and loved enough to marry her… She doesn't want to be a part of LJ's life. I'm going through it. It's bad."
With Shepherd, 48, missing from LJ's life, the little boy depends on his father's friends to act as his mother figures.
"I have a circle of girlfriends that watch him, that help me out," Sally explained. "I wouldn't say one particular person, but I have a village of friends that all kind of pitch in and they always want him to spend the night or spend time with him, like I said, because he's such a good kid. They love him."
He added: "With my village of friends, everybody kind of pitches in in the mother world doing the things that Sherri is supposed to do."
But this is confusing for LJ.
"He says, 'Mama,' and I just tell him, 'I'm working on it son. I'm working on it,'" Sally noted. "I wish he could say, 'Good mama' because that's the thing I'm looking for is a good person, a good female to be in his life."
LJ seems to be searching for that role model too.
Article continues below advertisement
"He gravitates towards women, and I think it's because he doesn't have a woman in his life," Sally said. "So when a woman picks him up, he just hugs them real tight."
"He calls random women 'mama,'" Sally continued. "It's sad."
Sally still holds out hope, though, that Shepherd will change her mind about their son.
"I'm just hoping one day she will come around and she will want to be in his life, and it'll just pick up from there," he concluded. "I would never deny her a chance to be in LJ's life. She's the mother for now on paper. If she changes her mind, she can be the mom. I have no problem with that."
As Radar first reported, Shepherd has never met her son. She hasn't even exchanged cards or sent him birthday presents.
"My honest opinion is that it's very hurtful that she would take it this far because the first conversation that we had is that we both wanted a baby," Sally previously said. "I don't know why she doesn't want to be a part of his life. He's a really good baby. He's charismatic and always laughing and smiling. She's really missing out on a lot. He's really something special."