'It's VERY Hurtful!' Sherri Shepherd's Ex-Husband RIPS TV Star For Deserting Son As He Reveals She's Never ONCE Met Tiny Tot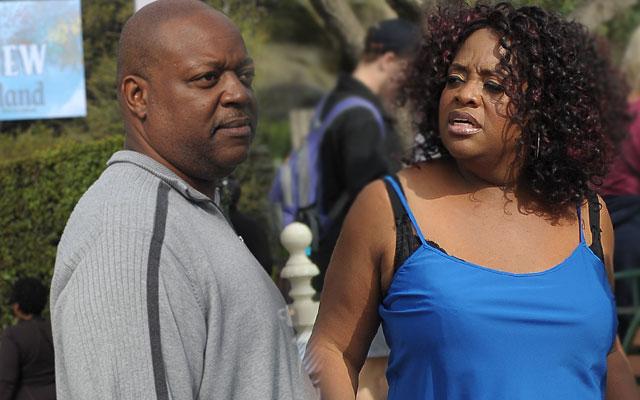 Sherri Shepherd is currently in the process of appealing a Pennsylvania court decision that ruled that she has to pay child support to her ex-husband Lamar Sally for their one-year-old son Lamar Jr. (LJ) who was born via surrogate.
The former The View co-host is also still trying to get her name removed from LJ's birth certificate.
But while Shepherd, 48, continues to focus on her own goals, there is one tiny being effected by all that is going on: her son LJ.
Article continues below advertisement
"My honest opinion is that it's very hurtful that she would take it this far because the first conversation that we had is that we both wanted a baby," Shepherd's ex Sally, 44, told RadarOnline.com during an exclusive interview.
"We both paid for the surrogate—she paid for the majority—and we talked about it numerous times: about LJ being born."
"So for her to come out now to take it this far to the Supreme Court is just baffling to me," he continued. "It hurts that LJ is growing up without a mother."
As Radar previously reported, Shepherd has not been part of LJ's life at all since his birth.
"She has never met LJ," Sally confirmed. "She has never reached out for anything. She has never asked for pictures."
Sally tried to mail Shepherd a holiday after LJ's birth, but Shepherd never got it.
"I sent her a Christmas card the first year he was born—he was like four months—and it came back," he said.
Shepherd has also never sent LJ any presents or cards either.
Article continues below advertisement
"Never received anything," Sally said.
She doesn't even speak to her ex about how LJ is doing.
"We don't communicate," he stated. "She prefers to go through lawyers."
And now, Shepherd is trying to distance herself from the baby as much as she can by not calling him her son.
"It hurts now because when she's on TV, she will refer to him as 'Lamar's child,'" Sally explained. "I'm like, 'This is our son. This is our baby.' So it's very hurtful that she doesn't recognize him in public or private."
For Sally, Shepherd's actions are extremely confusing.
"I don't know why she doesn't want to be a part of his life," he said. "He's a really good baby. He's charismatic and always laughing and smiling. She's really missing out on a lot. He's really something special."
Instead, Shepherd has started a war with her once family.
"Sherri has literally made my life a living hell as far as what she has done to my reputation in the media, what she has put me through," Sally said. "I am $100k in debt because of this with lawyer fees."
Article continues below advertisement
"And now she's left me to be a single parent of a sick child," he added. "It's just not right."
Reflecting on everything, Sally is shocked by the way Shepherd handles the situation.
"To have it come from someone that I loved and loved enough to marry and become a stepfather to her child… she won't let me have anything to do with my stepson and she doesn't want to be a part of LJ's life," he said. "It's bad."
Because of everything Shepherd has put him through, Sally is now in the process of filming a reality show to share what his experience has been like as a single and tell his side of the ongoing battle.
"One day LJ is going to be old enough to look at this on the Internet and see how far that she has gone to not love him," he concluded. "It's really just hurtful."