Exposed! Kylie Jenner & Blac Chyna's 20 Worst Slams Of 2015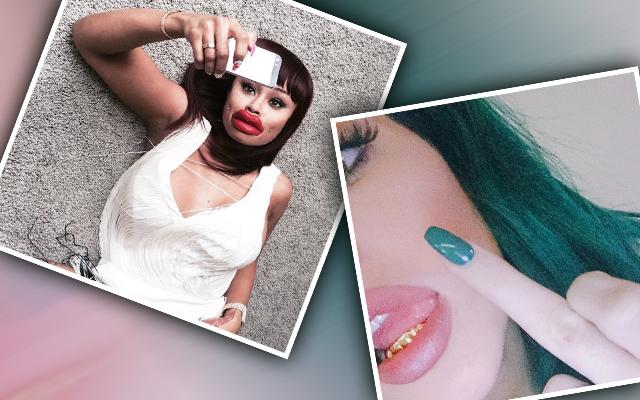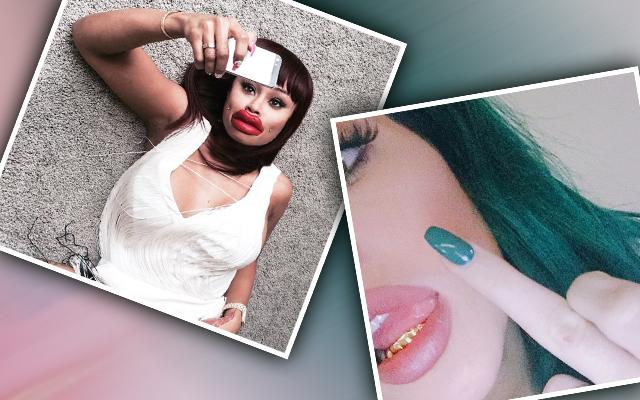 One year later, and Keeping up with the Kardashians reality star Kylie Jenner is still keeping up her online battle with her boyfriend Tyga's bitter baby-momma, Blac Chyna! In fact, as the 18-year-old plastic princess transformed her outward appearance in 2015, the only thing that did not change was her hatred towards her ratchet rival! Click through twenty of the most maliciously clever back-and-forth social media slams since this epic feud began.
Article continues below advertisement
Although Jenner would never admit to throwing the first punch at Blac Chyna, it was obvious that she wanted a reaction when she posted this photo to her Instagram more than nine months ago. At the time, the KUWTK star was only 17-years-old and insisted that she and Tyga were just friends. But the blinged out watch she wore in this staged picture told a different story! It was from her new man.
And so the battle began! Blac Chyna showed her underage annoyance that she could take a lickin and keep on tickin'! Wearing an identical watch that was also given to her by Tyga prior to him robbing the reality cradle, Blac sent a message to her new nemesis that although Jenner may have her leftovers, she does not have an original armpiece!
Article continues below advertisement
Sorry not sorry! After Jenner realized that she had just insulted her new beau's baby-momma, she posted this sexy selfie. The caption read, "I'm sorry too!"
At the time, Tyga's teen lover did not know that she was going up against a shameless cleavage-bearing ninja that was ready to attack.
Article continues below advertisement
Instead of letting the fight end there, Jenner let her boyfriend's bitter ex know how she really felt about her by posting this photo! Aside from the green with envy theme of this particular post, Jenner also showed Blac Chyna that she, too, could rock a gold grill.
Blac fired right back at Jenner by posting what very well could be the most hateful insult of all! At the time, Jenner had just confessed to the world that she lied about not having lip enhancement surgery. Instead of allowing the fans to forget, Blac added fuel to the fire by hitting Jenner where it hurt the most: smack dab on the kisser!
Article continues below advertisement
Blac Chyna may have killed it with the last photo, but Jenner's boyfriend Tyga was not about to allow his ex to publicly humiliate her sloppy seconds like that. Tyga joined the war between the two when he posted this photo of Jenner, along with a caption that said she was the true "killa!"
After seeing Tyga's post, crediting his secret lover as a new fashion icon, Blac Chyna summoned her inner fashionista to create an almost identical look. She clearly went back to black!
Article continues below advertisement
After Blac Chyna and Tyga engaged in obvious shade throwing, the young rapper tried to soften the feud by posting a super cute Father's Day card that he got from his son with Blac!
However, even though the two named their offspring King, Blac Chyna let her ex know that she would always be the queen in their dysfunctional family.
Article continues below advertisement
MORE ON:
Keeping Up With the Kardashians
Kylie Jenner seemed to provoke Blac Chyna with this post, which showed her rocking cornrows, one of Blac's signature styles. In the post, she said, "I woke up like DISSS!"
After Jenner posted the photo, she got extreme backlash from millions of people worldwide who let her know that she was not only insulting Blac Chyna, but black people as well! In this photo, Blac was clearly laughing at the failed attack.
Article continues below advertisement
Jenner was not the only KUWTK sister that wanted revenge against Blac Chyna. After Blac's BFF Amber Rose got into a heated altercation with Khloe on Twitter, Jenner and Khloe posted this photo of their united front to show their worst enemies who was in charge!
However, the youngest Jenner sister and her big sis were no match for the Rose and Blac counterattack! After the KUWTK reality sisters posted their photos cloaked in black, the two former strippers stepped out on the same day that gay marriage was legalized wearing all white. The angels definitely won this round!
Article continues below advertisement
Entering the double digit round of their ongoing battle royale, Jenner showed off the newest addition to her squadron of automobiles. Of course, she chose a hot pink interior, which is the same color as Blac Chyna's notorious G-wagon!
As RadarOnline.com reported, for Jenner's 18th birthday Tyga showed his love by giving his girlfriend a Ferrari! What seemed like a nice gesture turned out to be classic fakery because the car was actually leased. Laughing all the way to the bank, Blac Chyna showed her fans and frenemies that copycat Jenner may take her man and her trademark color, but she could never take her pride. She captioned this photo, "Paid for in cash!"
Article continues below advertisement
Drink this! Blac Chyna did not let Jenner's ego get any bigger than it was, so quickly posted this to show that she too could rock the tea with some serious T&A!
Article continues below advertisement
When Kylie turned 18 in September, she and tagalong Tyga wasted no time in telling the world what everyone already knew : that she and her seven-years-older beau were more than just besties. While on her bikini-filled birthday in Mexico, Jenner showed Blac Chyna, in so many words or less, who was boss!
To round out the year, Blac Chyna showed off her bod for her ex and the world. Do you think that this feud will ever end? Will Tyga leave Kylie in 2016? Tell us your thoughts below.