Exclusive
Wasting Away! Angelina Jolie Down To 76 Pounds Amid Bitter Divorce Drama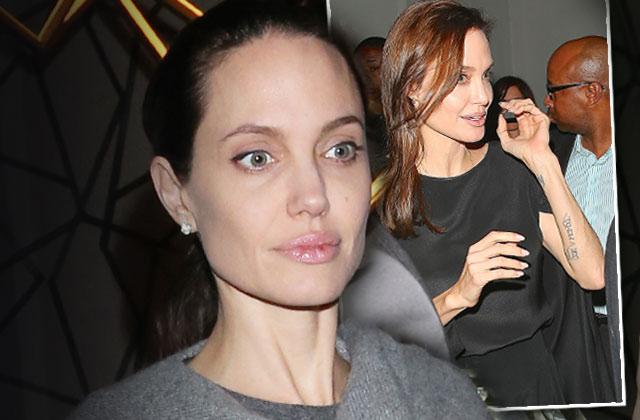 Stressed to the max over her bitter divorce and custody fight with Brad Pitt, frail Angelina Jolie has melted away to a scary 76 pounds!
"Angie's not coping at all," says a source. "Her arms have become so bone-thin, they look like toothpicks! Her weight is plummeting."
New York based internist Dr. Stuart Fischer, who has not treated Jolie, warned, "She's gone past the point of safety!"
Since the Tomb Raider vixen filed for divorce on Sept. 19, Jolie's eating issues have gotten worse, insiders claimed. Her problem was made even more dire, said insiders, when the L.A. County Children and Family Services Department dismissed her child abuse allegations against Pitt on Nov. 9.
Article continues below advertisement
That could give the hunk, now starring in the World War II flick Allied, a huge advantage in the custody war over their six kids, sources said.
Jolie wants sole custody of the brood — with Brad limited to visitation rights. Pitt wants joint custody, which is favored by California law. With the abuse claim settled, things seem to be going his way.
Pitt broke his silence after being cleared of abuse charges thanking fans for their backing during the ordeal.
"It's really sweet, everyone has been really kind out there," said the 52-year-old actor. "It's really nice to have all the support."
However, the ugly custody brawl appears to be taking a toll on Pitt, too. He's lost an estimated 20 pounds since the divorce battle began. But freaked-out Jolie appears to have to lost even more — and is struggling to maintain her composure, sources said.
"Angelina's tearing her hair out over this latest development," said a source, who insists the Maleficent star is barely eating.
MORE ON:
Brad & Angelina's Divorce From Hell
Article continues below advertisement
"The fear is that she'll end up in the hospital on a feeding tube!"
"Angie was furious when she was informed that authorities determined that Brad did not commit child abuse during an altercation with their son Maddox on a private jet. I think she expected them to throw the book at him!"
Now, emotionally drained over her vicious divorce battle, fragile Jolie has wasted away to a frighteningly thin 76 pounds!
In a recent outing with their children, the scrawny star seemed weak and almost ready to keel over.
Dr. Gabe Mirkin, who has not treated Jolie, said further weight loss could be lethal, warning: "If she keeps losing weight, she's going to go into heart failure."
We pay for juicy info! Do you have a story for RadarOnline.com? Email us at tips@radaronline.com, or call us at (866) ON-RADAR (667-2327) any time, day or night.