Robin Williams' Kids & Wife Continue To Spar Over His Estate –– Money For Upkeep Of Home, 300 Personal Items At Heart Of Legal Fight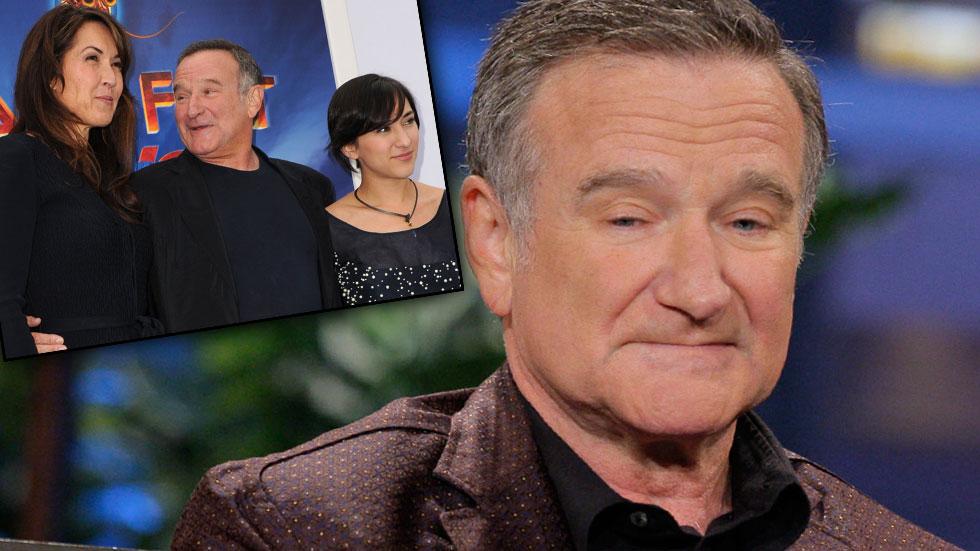 As the anniversary of his suicide approaches, Robin Williams' wife and three children continue to argue over how to split money, and about 300 of the late actor's belongings.
In a Monday court hearing in the late Oscar-winner's native San Francisco, Superior Court Judge Andrew Cheng set a July 29 deadline for Williams' widow Susan -- and children Zachary, Zelda and Cody -- to reach an agreement on how the late actor's possessions will be divided.
Article continues below advertisement
The main issue revolves around the how much money Susan Williams will receive to keep up the Tiburon, Calif. home they shared, as appraisers will take another stab at valuing the property in the near future after an initial probe.
Susan Williams wants to keep some of the Mrs. Doubtfire star's personal items such as T-shirts, boxers and slippers, her attorney James Wagstaffe told the AP.
"I'm representing an emotionally grieving widow who's trying to honor her husband's wishes," Wagstaffe said in court Monday, comparing the amount she wanted to a "small bucket of water from a lake."
Meredith Bushnell, who's representing the Aladdin star's three kids, said that the widow was using "delay tactics" to stall the process.
The sides are arguing over what items each is entitled to -- such as watches, pictures and awards -- as some of the possessions in question were collected prior to his 2011 wedding to Susan, a graphic designer.
The legal battle heated up late last year after Susan Williams wanted the possessions that were in the home, but the children shot back that their stepmother had added "insult to a terrible injury" with the request.
The case will go back in front of the court July 29.
Williams tragically took his own life Aug. 11, 2014 at the age of 63.