Boob Job & Hormone Treatments! See Bombshell Richard Simmons' Post-Surgery Photo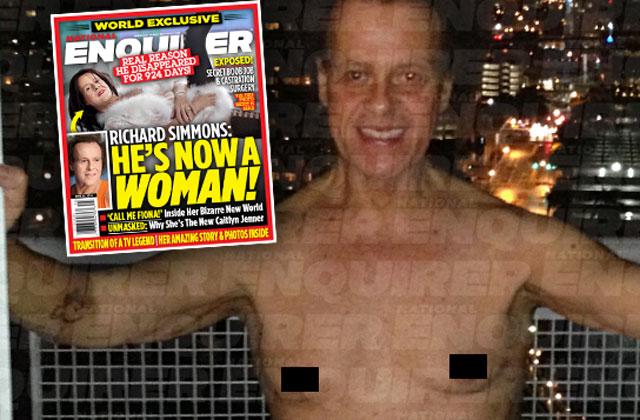 Richard Simmons is serious about his decision to live fully as a woman. "He had a boob job, and his breasts are like he had been taking hormones to make them grow," a friend of Simmons' told The National ENQUIRER.
Unfortunately, the treatments to feminize his appearance have had a bad side effect.
"He had huge mood swings, too, which we attributed to hormone therapy," noted the pal.
As RadarOnline.com reported, Simmons is now living as his female identity, Fiona.
Article continues below advertisement
The ENQUIRER was the first to break the news and divulge incredible Photoshop-free pictures of Simmons, 67, with flowing brunette locks and womanly curves.
Even before the treatments, the gender-bending fitness guru was never very shy about hiding his feminine side. He often appeared in public wearing tiny tutus, dresses and other womenswear.
In the wake of Simmons' publicist Tom Estey denying the story — he claimed it was "total crap" — The ENQUIRER provided Radar with this bombshell image.
According to the friend, the shocking image of a topless Simmons on the balcony of a Miami hotel was snapped shortly before he began his self-imposed exile several years ago.