Presidential Election 2016
Exclusive
Presidential Hopeful Ted Cruz Admits To Making 'Foolish Mistakes' After Booze Bust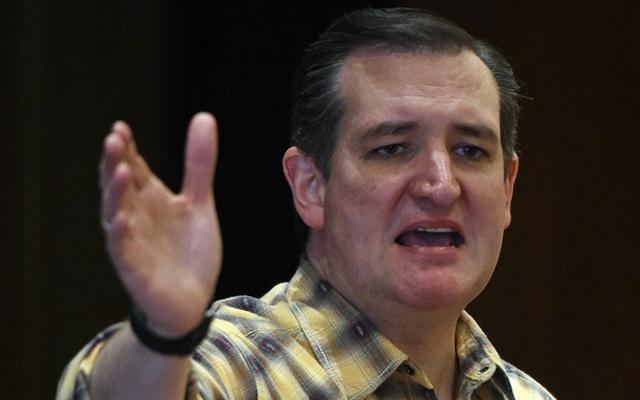 Democratic operatives are secretly digging into the past of White House wannabe Ted Cruz, determining that a hushed-up 1987 booze bust is just the tip of a liquor-filled iceberg!
RadarOnline.com uncovered official documents showing the 45-year-old politician admitted to a drinking bust in an application dated Feb. 6, 2003, for his appointment as the Texas Solicitor General.
And he confessed to being in trouble with the law, stating: "Yes. In 1987 (as a teenager), pled guilty to Minor in Possession Alcohol…Teenagers often make foolish mistakes, and that certainly applied to me as well."
Article continues below advertisement
Because he wasn't an adult at the time, there are no available police records detailing the offense.
Radar also learned that while studying at Harvard Law School, Cruz got so sloshed drinking grain alcohol that he could barely perform in a school play — walking offstage in the middle of scene!
It's also been reported that while a student at Princeton University, former classmates have described him as "creepy," and have said he had a habit of putting on a paisley bathrobe and stalking the end of his dormitory where female students lived.
"These incidents have whet the appetite of investigators," a political informant told Radar. "The Dems are now looking for dirt on Ted and certainly Hillary Clinton's people would love to have some ammunition against him. There's the belief that drinking got him in trouble even more, and that's what they're looking for from the senator's past."
The drinking issues are just the latest controversies to engulf the GOP presidential candidate, who many believe should be disqualified from campaigning because his mom gave birth to him in Canada.
Cruz readily admits he was born in Calgary, Alberta in 1970, to Delaware-born mother Eleanor Darragh and Cuban-born father Rafael Bienvenido Cruz.
He also admits both of his parents were raging drinkers.
"Both of my parents drank far too much. Both of them had serious problems with alcohol," Cruz said last year. "When I was 3 years old, my father decided he didn't want to be married anymore and he didn't want a 3-year-old son, so he got on a plane and left."