Exclusive
Psych Wards & Rehab: Inside The Tragic Life Of Nicole Brown's Sister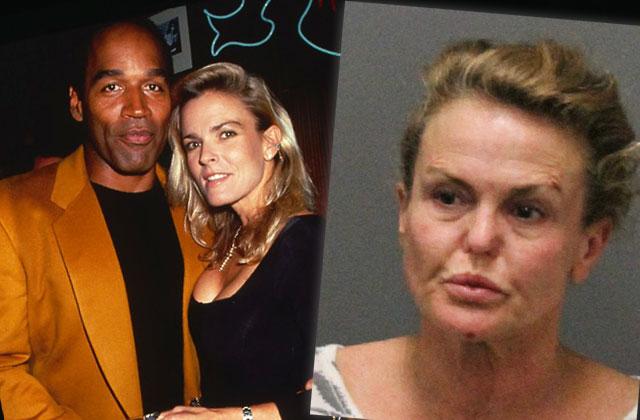 O.J. Simpson's estranged wife wasn't the only victim after she was found with her head nearly decapitated in her vicious 1994 murder in Brentwood, Calif.
RadarOnline.com has exclusively obtained court records showing her troubled sister, Dominique Brown, 51, has had her own share of issues, including a DUI arrest and subsequent multiple trips to rehab.
According to official records, Dominique was arrested in Orange County, Calif., on Dec. 15, 2014, and had a whopping "blood alcohol concentration of .20 percent or more, by weight."
Article continues below advertisement
"She crashed her vehicle into a barrier and caused a significant amount of damage, luckily no one else was involved in the accident," an insider told RadarOnline.com at the time.
As part of her sentence, courts ordered Dominique to enroll for nine months in a first offender alcohol program, perform community service and pay a fine.
But behind the scenes, Dominique's arrest kicked off a long string of stays in various treatment facilities as she continued to struggle through the 20th anniversary of her sister's death.
On March 12, 2015, Dominique was placed on an involuntary psychiatric hold and treated for "psychosis."
Shockingly, the following month she was again arrested for public intoxication in Laguna Beach after police got a call "of a woman walking about the street bumping into parked cars," officials told RadarOnline.com.
Dominique entered rehab on April 15 for the third time.
But, according to records, she wasn't done yet and enrolled in Cornerstone of Southern California to undergo its "highest level of care" on Oct. 12, 2015.
Article continues below advertisement
The drug and alcohol rehabilitation treatment facility boasts an "emphasis on relapse prevention."
But in April, 2015, Dominique wrote the court revealing she "was hospitalized" from March 12 of that year through April 13, including for treatment of psychosis, "which caused me to miss classes" the court had ordered her to attend.
"I am now going in to treatment for 30 days of alcoholism," Dominique noted.
And on June 18 of this year, she wrote the court revealing she was in Boerne, Texas, "in treatment" with plans to stay there afterward in a sober living facility. Dominique requested she be allowed to serve her community service hours from her 2014 DUI down in Texas.
Despite her plans, court records show that Dominique came to California and "enrolled in the intensive outpatient treatment program offered by Westside Treatment," in Los Angeles on June 24.
Article continues below advertisement
As part of the rehab program, Dominique had to agree to submit to drug testing and participate in various recovery activities, group sessions and other courses. She would then be evaluated on her participation in the program.
As RadarOnline.com reported, Dominique has had a tough time coping with the brutal murder of her sister.
Dominique and her late sister Nicole's other sibling, Tanya Brown, revealed some of the pain the family went through in her book, Finding Peace Amid the Chaos.