Brush With Death? Miley Cyrus Has Scary Reaction To Bad Drug ... A Slug!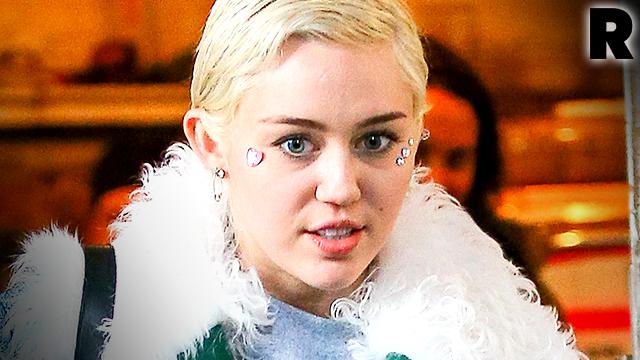 Pop star Miley Cyrus makes no secret of her frequent and enthusiastic drug use, but now, a source is exclusively revealing to Radar that the former Disney idol had a particulary scary episode while experimenting with a dangerous new substance!
A week before she was set to host Saturday Night Live, Cyrus and some pals set out on a camping trip, where the singer's recreational drug use spun way out of control. "One of her friends told her to lick some weird 'banana slug' and she got really sick," an insider told Radar. "Her tongue swelled out of her mouth and she had to take antibiotics and steroid shots all week."
Article continues below advertisement
But despite the medicine, Cyrus' symptoms did not abate in time for the show, with an insider revealing that she had a full body rash, which the makeup artist spent over an hour covering.
According to the source, Cyrus made no attempt to hide her drug use from people on set. "She was stoned for the entire show," the insider revealed. "She was smoking blunts all week long - chain smoking them."
Sources also say that Miley's drug use has begun to interfere with rehearsal! "Last time she hosted, the cast knew her to work her ass off in rehearsal, but as soon as that ended, she 'partied her face off," the insider said. "This time, she was smoking weed non-stop throughout rehearsals, readings, everything! When the show was over, she was so stoned her eyes were almost completely shut."
Her "banana slug" incident was not her first encounter with hardcore drug use. In January, The National ENQUIRER exclusively uncovered photos of Cyrus' "drug den" – where she used marijuana and hallucinogenic mushrooms, and "boasted of doing cocaine during a four hour bender," according to an eyewitness. The outlet reports that the images, "show a room littered with marijuana buds, rolling papers, white powder that looks like cocaine and rolled up dollar bills."
While her family has reportedly attempted to intervene, Cyrus has reportedly rebuffed their attempts at getting her drug use under control, with the source claiming that she openly "mocked" rehab. But her family and friends are not the only ones who reportedly fear for the young star's safety. As much as the SNL cast enjoyed her as a host, the insider shared that they too have concerns that one day, her life could come to a tragic end. "Miley has a great work ethic and the entire cast thinks she's super nice," the source said. "They're impressed with the sketches she does and how she delivers her lines - they hold her with the same respect they have for Justin Timberlake!"