Another Scandal! 'Pot'-Smoking Malia CAUGHT Posing With Bong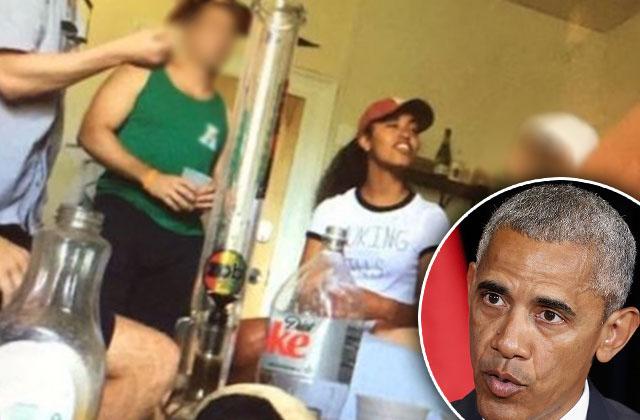 Malia Obama's summer adventures continued this past weekend, as she attended the Made In American festival in Philadelphia — and was photographed next to what appears to be a giant bong! As the image continues to go viral on social media, RadarOnline.com can reveal that an expert insists that it does NOT appear to be photoshopped.
According to an insider, the photograph was taken on Sunday, September 4, at a University of Pennsylvania frat house. Malia can be seen wearing the same "Smoking Kills" tee she wore to the festival — a clear dig at the videos of her smoking pot at July's Lollapalooza festival in July previously published by RadarOnline.com.
Article continues below advertisement
But although it almost defies belief that Malia would allow herself to be caught in a similar situation again so soon, Alan Barry, celebrity photographer and photoshop expert, told RadarOnline.com that he thinks the photo is not a fake.
"I have examined the image in detail," Barry told RadarOnline.com. "While what has been provided me is a very low resolution image, it is nevertheless clear to me that the image of Malia has not in any way been manipulated using photoshop or any similar software."
"Specifically, her image was not added or overplayed in anyway to another image to create the final photo," he said. "That is, for better or worse, Malia Obama in the photo."
The Obamas have yet to comment on this latest embarrassment. As RadarOnline.com reported, after she was caught smoking pot at Lollapalooza in Chicago, her dad Barack gave her a talking-to.