Exclusive
Desperate Or Delusional? Lindsay Lohan In No Rush To Do Community Service Hours -- Confident She'll Skip Jail Time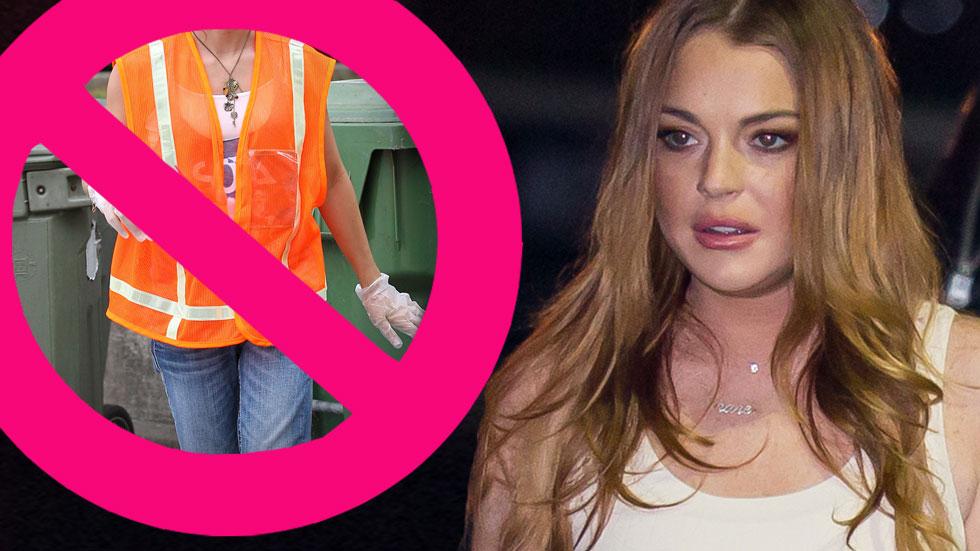 Will Lindsay Lohan get yet another lucky break? She seems to think so. Thursday a judge warned there would be "serious consequences" if she doesn't finish her community service hours by May 28, but insiders tell RadarOnline.com that Lohan is ignoring advice from advisers to get to work, because she doesn't believe she will be serving any jail time.
A source told RadarOnline.com exclusively, "Lindsay is still partying up a storm, and ignoring phone calls and text messages from her attorney, Shawn Holley. With the threat of serious jail time looming, she is still up to her old tricks. Making excuses for reasons why she can't get to the location to do community service, hoping to get it done in Brooklyn, it's just the endless circle of drama."
Article continues below advertisement
", and thinks her attorney Shawn will be able to get it extended once again," the source said. "Lindsay is living in London, and knows nothing can be done legally while she is there."
Lohan had been ordered to perform another 125 hours of community service after prosecutors presented evidence to Judge Mark Young earlier this year indicating there were major inconsistencies in her past reports.
In court Thursday, her attorneys told the judge she had completed only 10! Her reasoning? "Her lawyers said Lindsay couldn't complete the hours because the place she does community service is too far away," a courtroom eyewitness told RadarOnline.com. "It's 90 minutes from her residence in London."
Her attorney, Holley told the court a taxi ride to the facility cost $76, and Lindsay couldn't afford it because she "currently wasn't working."
Last week, she was spotted shopping in Milan and later having a tearful meltdown in the middle of the street at night.
​Lohan was also spotted partying in the early morning hours in London several days ago.