Exclusive
Leah Betrayed! 'Teen Mom' Messer's Husband Jeremy Calvert Hooked Up With Hot Tattoo Model Last Year
The problems in Leah Messer's marriage are even worse than she knows!
Though the drama seemed to start when the Teen Mom 2 star's husband Jeremy Calvert publicly accused her of cheating last October, RadarOnline.com can exclusively reveal that the reality dad, 26, actually hit on a gorgeous brunette seven months earlier.
On April 15, 2014, tattoo model Melissa Marie tweeted that Calvert was her man crush.
Article continues below advertisement
Later that day, a friend close to the Arizona-based stunner exclusively tells RadarOnline.com that the MTV star followed her back, direct messaged her and started a conversation.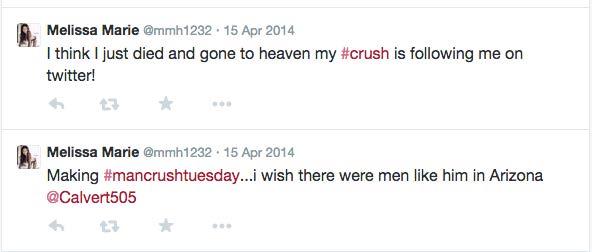 "She didn't believe it was him, but then he sent her a photo of himself holding up a sign of her name," the friend reveals, adding that Calvert swore he was separated from his wife of two years.
They soon developed a steamy rapport and exchanged naughty photos over Facebook.
A few weeks into their online tryst, "he asked her to visit him," the friend alleges.
But suddenly, Calvert disappeared without an explanation.
Seven months later, he was back, swearing his marriage to Messer was finally done for good.
RadarOnline.com even reported that Calvert was suspiciously following the model on Twitter at the time.
They began chatting on the phone, and the pipeline engineer invited Melissa to spend the weekend with him in Columbus, Ohio, where he was working.
Article continues below advertisement
On November 21, 2014, the source says Melissa arrived in Columbus, and the pair shared two steamy nights together at a hotel near the airport.
"They definitely had sex," the friend says. "Jeremy told Melissa he was falling for her."
During their whirlwind trip, Jeremy even introduced Melissa to a coworker, and the three caught a movie together.
"He wasn't trying to keep it a secret," the friend says. "They were out in public and he didn't try to hide her."
After Melissa got back home, she and Calvert texted constantly, and even made plans to spend Christmas together in Arizona.
"But suddenly he disappeared again," the friend reveals. "And then Melissa saw photos of him with Leah on Twitter. She was shocked."
She also read RadarOnline.com's exclusive report that Calvert had been busy arranging a sexy sleepover with West Virginia single mom Brittany Musick, 27.
"Melissa realized he was texting Brittany while they were together in Ohio," the friend reveals. "She could see that she was just a hookup to him."
"She thinks he's a douchebag. Fame has gone to his head!"
As RadarOnline.com exclusively reported earlier this month, Calvert secretly filed for divorce from Messer, 23, in West Virginia court on November 17, 2014. However, the couple soon reconciled, only to split again in March.