Kim Richards Slams 'Real Housewives' Franchise: 'It Really Hurt Me'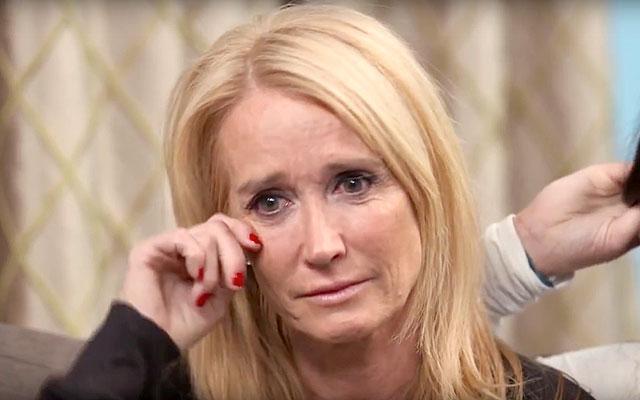 Kim Richards and her daughter Kimberly Jackson joined The Mother/Daughter Experiment: Celebrity Edition to work on fixing their broken relationship.
But during the premiere episode on Monday, Richards, 51, blamed a lot of her issues on her role in Real Housewives of Beverly Hills.
"There's been good moments, there's been not so good moments," Richards admitted. "It's been a roller coaster ride. Being a part of the Housewives has been an experience. It really hurt me because I was struggling with certain things."
Article continues below advertisement
"It is tough to watch me get beat up by some of the girls on the show," she added.
Jackson agreed that the show caused her mother a lot of grief.
"Being on the show and hearing people talk bad about her, it's affected her a lot," she said. "So I feel like somebody needs to protect her."
Because of what her mother was going through, Jackson stepped up to support Richards.
"I feel like I have to take care of her," the 21-year-old said. "She's fragile physically and emotionally. And I think I've kind of taken over the role of like not the husband, but I've always felt like I have to be helping her, and it does overwhelm me."
This news broke Richards heart.
"I did the best that I could, so to let my kids down in any way is devastating," Richards confessed.
But Richards wasn't the only one having problems: Heidi Pratt, 29, showed up drunk to the first night in the house.
"You're not able to have a rational conversation with me or anyone else," Pratt's mom told her.
Later on, she got so intoxicated that she threw up all over the ground while running to the restroom.
Article continues below advertisement
Courtney Stodden, 21, also broke down into tears, claiming that her own mother told her husband that she loved him.
"I feel so broken," she said. "I'm constantly crying."
According to Stodden, she had not spoken to her mother in six months nor seen her for a year prior to going on the Lifetime show.
"I hope we can move past the pain because I don't know how much I can take," she said. "She began behind back trying to steal my husband away from me. She took his hand and said, 'I don't know what to do. I'm in love with you.' What mother would do that to her daughter?"
To see how all of this drama plays out, tune in for the next episode of the Mother/Daughter Experiment on Lifetime.