Pregnant Kim Kardashian Poses Nude In Shocking Instagram Post –– Claims She Didn't Use Photoshop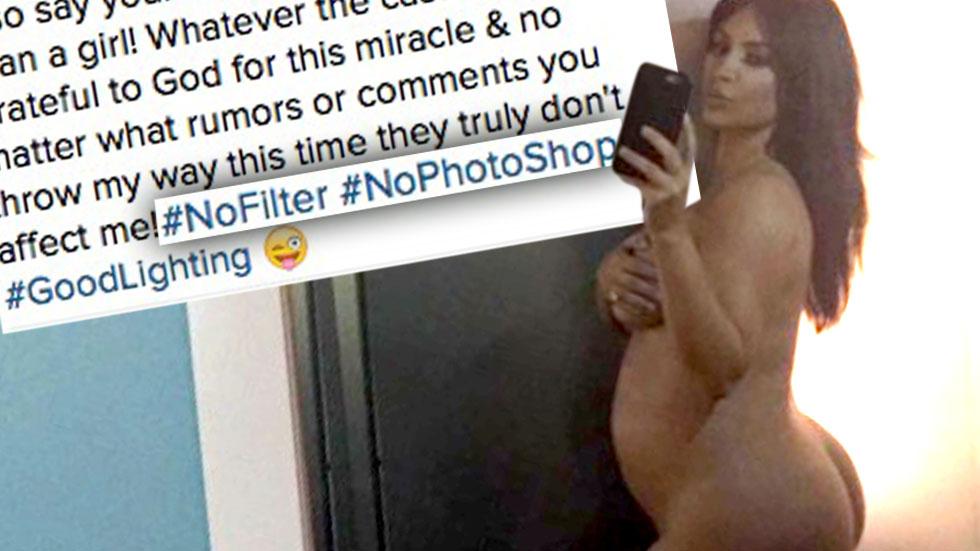 Kim Kardashian railed back at critics of her body, posing nude in a bombshell Instagram post Tuesday -- and denied she used Photoshop to pull it off.
The curvy celebrity used hashtags to shoot down any murmurs of having extra help with the photo, writing: "#NoFilter #NoPhotoShop #GoodLighting," along with an emoticon of a winking happy face.
The reality TV queen wrote, "First they say I'm too skinny so I have to be faking it...Now they say I'm too big so I have to be faking it...SMH!"
Article continues below advertisement
https://instagram.com/p/6P0-KluS5-/
She continued: "Some days I'm photographed before I eat & look smaller, some days I've just eaten & I look bigger," adding that the ups and downs of pregnancy are "all a part of the process.
"Everyone's body is different, every pregnancy is very different! I've learned to love my body at every stage!"
The Rolling Stone cover girl, who said she felt bullied about her weight gain during her first pregnancy with daughter North, vowed she's "going to get even bigger & that's beautiful too," and doesn't have any "swelling issue this time" around.
"They also say your body carries a boy different than a girl!"
The Keeping Up With the Kardashians star also used the attention-grabbing opportunity to deny rumors she's used a surrogate for her second pregnancy, writing, "I think you all know me well enough to know I would document the process."
Tempting online trolls and critics, Kim said that "no matter what rumors or comments you throw my way this time they truly don't affect me!"