Kim Kardashian Reveals Baby Weight Loss Motivation — Her OWN Selfies!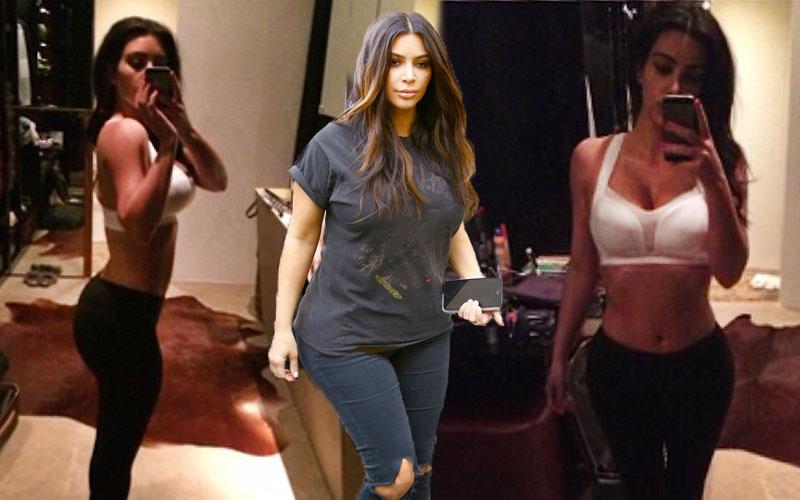 As Kim Kardashian struggles to shed her baby weight after giving birth to son Saint West, the Keeping Up With The Kardashians star reveals what inspires her the most — herself!
In a new video on her website, the 35-year-old shared that most of her motivation stems from looking through old photos of her physique following first-born North West.
"I was pretty proud of myself," the reality star told fans of her post-baby selfies taken a few years prior. "I had gotten into really good shape; I had lost some weight; I think I lost all my weight at this point."
Article continues below advertisement
"I was in Thailand, in my hotel room, and North was sleeping in the bed," Kardashian continued, "and it was night time and I couldn't fall asleep, so I just wanted to take some pictures, some selfies, to remember how I felt when I felt just like, 'Okay I did it, I accomplished it. I am in really good shape and I did it, I lost all that weight.'"
The snaps now serve as Kardashian's encouragement on her latest weight loss efforts.
"So I look back now at photos like this that kind of inspire me and I remember, 'Okay I did it then, I can do it now,'" she said. "And, you know, I have to be patient, this was a year after I had North I think. You know, it's still motivating to me when you think you're so far off from your goal."
"It just kind of shows you, you can do it, it will just take time, stay focused, and don't let anything get you off track," Kim concluded.
The mother-of-two also revealed that she's been able to lose a whopping 42 pounds since Saint was born, though her workout and diet regimes are far from over.
However, as RadarOnline.com previously reported, sources say Kardashian is completely "overwhelmed" by her attempts to lose her baby weight and her "hormones are all over the place."