A Second Wedding? Khloe Considers Remarrying Estranged Husband Lamar!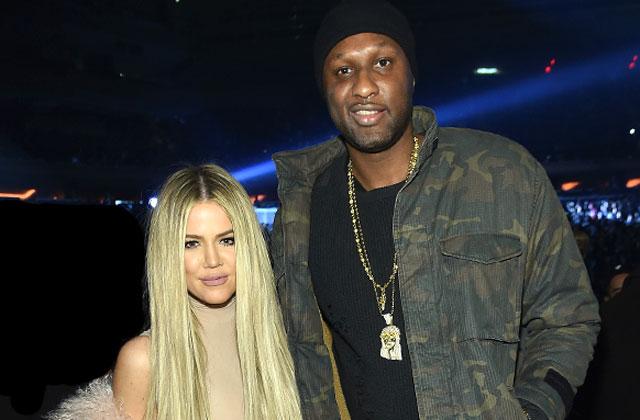 Just a few months ago, Lamar Odom was on his deathbed following a terrifying drug overdose at a Las Vegas brothel. But last night on Keeping Up With the Kardashians, Khloe Kardashian's estranged husband was on his own two feet again — and making his comeback debut in front of 15,000 fans!
As RadarOnline.com readers know, Lamar attended Kanye West's New York fashion show in February alongside his ex and her famous family. Though he seemed cool, calm and collected walking with Kanye as the crowd cheered, Khloe nearly forbade him from making the trip from Los Angeles for the enormous event.
Article continues below advertisement
"New York is a very negative place for Lamar," she said of her ex's hometown. Indeed, as he later mentioned, Lamar was involved in a fatal car accident the last time he had been in New York. Also, he recalled, his cousin died just days before that crash.
But Khloe eventually changed her mind at the urging of Kim and BFF Malika Haqq. Also, Lamar stressed how much he wanted to attend his former brother-in-law's show.
"If this keeps him happy and keeps him safe, it's a match made in heaven," she told the cameras. However, she confessed she still felt a "ton of anxiety."
During the event and subsequent group dinner, Lamar was very quiet, but seemed totally with it.
He met Caitlyn Jenner for the first time since the Olympian transitioned into a woman last year.
"I called her Bruce for the first couple sentences," he later told Khloe, referring to Caitlyn's former name.
Article continues below advertisement
He also shared snippets of what life was really like as he lay in a coma last fall.
"I kept having real dreams, in depth dreams, of people that passed on," he told Kourtney in the car after Kanye's show.
"I think he went to heaven from the conversations he has with me," Khloe said.
In an honest conversation, Kourtney stressed how close to death Lamar had really been.
"When we left you in the hospital in Vegas, we didn't think we would see you again," she revealed. "We were hysterically crying on the airplane. We couldn't even talk. I swear that people's prayers for you saved your life."
"If you're lucky, that could be you, Lamar!" Khloe laughed.
Kris even discussed throwing a second wedding for the couple. But Khloe stressed that for now, she would go ahead with a divorce.
"Well, we're definitely getting out of this marriage, because it's been a little tainted," she said, in the world's biggest understatement. "We need to cut our ties, and then we can figure it back out."
So it seems there's still hope for Khloe and Lamar.