Sob Story! Hank Baskett Bawls Telling Kendra Wilkinson More Lies About Transsexual Model Affair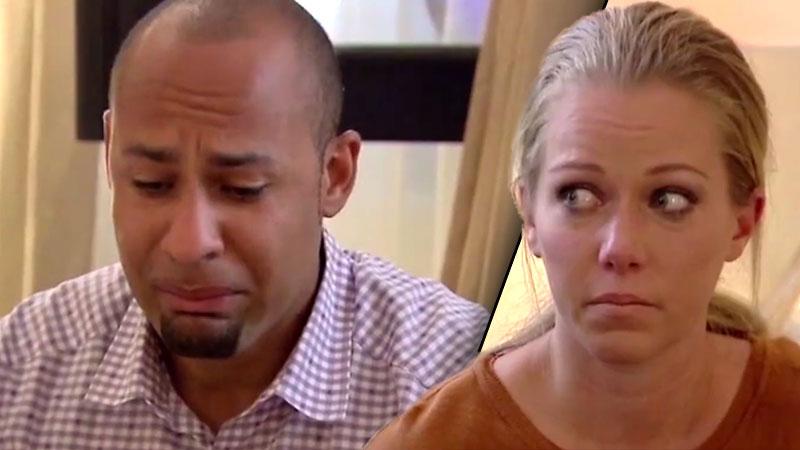 Hank Baskett says he is finally ready to admit on camera how he ended up at the center of a transsexual cheating scandal. But in a new clip of his confession obtained by RadarOnline.com, Kendra Wilkinson is only fed more lies!
The traumatized couple sat down for the revelation on Marriage Boot Camp Reality Stars and they both broke down in tears as Baskett tried to explain away his tryst with the Ava Sabrina London.
Article continues below advertisement
"I walked up to a grocery store and I smelled weed. A guy handed me a number," the former NFL star told his wife in the episode, claiming he went to a motel to pick up the drugs.
However, as RadarOnline.com exclusively reported, Baskett contacted London online and went to her home for the affair, and was not looking to purchase weed from a random couple in the grocery store parking lot.
"I was not going there for what this person has alleged. I was not going there for that," Baskett sobbed to his equally upset wife.
But London claimed that while the two did not have sexual intercourse, they did have an X-rated romp that involved lots of naked play. She passed a polygraph test about the claims.
However Baskett's story vastly differs. "I went to the bathroom. When I came out of the bathroom, what I walked into scared me. I saw this individual. I froze, I froze because I instantly…I instantly felt I lost everything. Just cause of what I had seen. I wanted to get out," he said.
With tears streaming down his face, Baskett described what happened next, saying: "The person came up to me and touched me."
Marriage Boot Camp Reality Stars airs Fridays on WE tv at 9pm.