High School, Dates & More! Watch Kate Gosselin & Her Kids Return To TV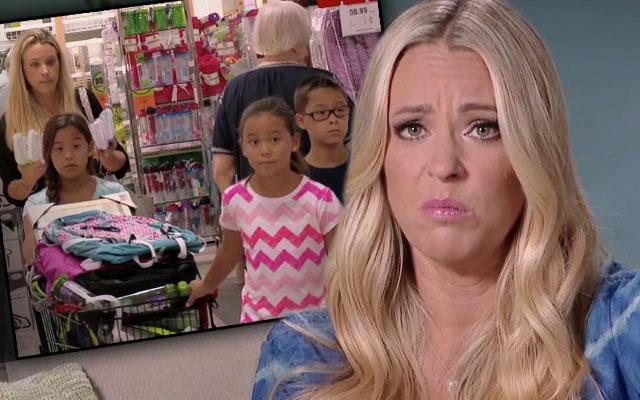 Kate Gosselin and her eight kids are returning to television on a new season of Kate Plus 8, but instead of the same old issues, the reality mom and her children — 15-year-old twins Mady and Cara and 11-year-old sextuplets Aaden, Collin, Joel, Leah, Alexis and Hannah — are confronting some major growing pains.
As Radar reported, last summer Gosselin was caught getting "touchy feely" and cozying up to her now ex-boyfriend, millionaire Jeff Prescott, within days of enjoying a dinner date with her bodyguard, Steve Neild.
Article continues below advertisement
But according to a press release for Kate Plus 8, the show will include scenes of the mom dipping her toe back in the dating pool. "Kate wants to finally start dating again, so with the kids in mind, she makes sure everyone supports this next step," reveals TLC, "but even with the kids on board, Kate's unsure of how her blind date will turn out."
Gosselin's teenage twins are now attending high school, and "back-to-school shopping is a challenge for Kate, Mady and Cara because with no uniforms, finding the perfect first day outfit is harder than they had anticipated," reveals a teaser for the show.
The onetime reality hit also invites viewers along as the family heads to Florida for a beach vacation, grows closer through more one-on-one time and throws a summer party.
However, one subject Kate Plus 8 won't touch is Gosselin's estranged ex-husband and the children's 38-year-old father, Jon Gosselin.
"Don't talk to me about ex situations," Gosselin, 40, sniped in June. "I don't define myself with that. You know I've been divorced for five years. They've been the greatest five years of my life."
Kate Plus 8 premieres Tuesday, December 8 at 9/8c on TLC.
WATCH A PREVIEW FOR THE NEW SEASON
Will you watch the new season of Kate Plus 8, or is the show past its prime? Sound off in the comments below!