Anna Duggar Reveals Separation From Cheating Husband Josh: 'I'm Going To Be Alone'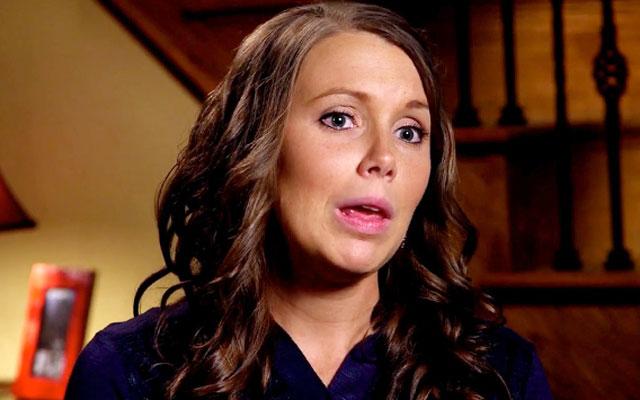 Ever since disgraced "family values" activist Josh Duggar confessed to infidelity and harboring a secret sex addiction last summer, 19 Kids And Counting fans (and haters) have been eager to know: Will his long-suffering wife, Anna, file for divorce?
The 28-year-old mother of Josh's four young children finally spoke to TLC cameras on last night's episode of Jill & Jessa: Counting On — and her revelations may be surprising to some.
Article continues below advertisement
First, she admitted to moving back in with in-laws Michelle and Jim Bob— and their supersize brood— while Josh receives treatment in the Christian recovery center he entered in late August.
"It's kinda funny, they had two daughters get married, and now they have a daughter-in-law and four grandkids," she laughed in one of her few moments without tears. "The girls' room is still very full at the Duggar home!"
She then turned to more serious topics, including her husband's first scandal in May: The uncovered police reports that revealed he had molested at least five minor females, including sisters Jill, 24, and Jessa, 23, as a teenager.
The Christian mom claimed to have known about the accusations since their early days of courtship, when he confessed his dark past in a conversation with her parents.
She insisted he was "very honest" about the police investigation— one word very infrequently used to described the self-confessed hypocrite.
Article continues below advertisement
Then, producers urged Anna to discuss her 27-year-old husband's recent despicable behaviors, including cheating, quite possibly with a porn star, and developing an obsession with pornography.
"My first reaction was denial," she said carefully. "I was really hurt that someone would think that about my husband, because I really thought everything was okay and we had a strong marriage."
She acknowledged Josh's actions as a "betrayal" that "shattered" her world, leaving viewers to suspect she may have plans to leave him.
But those who want Anna to file divorce papers— including her own brother — were sorely disappointed when she cited God as her reason for staying put in the marriage.
"There are those who feel I have every right to walk away from this marriage, and I respect other peoples views," she spoke. "But when i got married, I vowed to God first and then to Joshua, 'For better or for worst, 'til death do we part.'"
Article continues below advertisement
"My prayer and my heart's desire is for our marriage to be restored."
In the meantime, with Josh away in treatment, Anna claimed she felt "alone" while raising their four children.
"It wasn't an easy choice for Josh to go to rehab when you have a new baby and three other little ones to take care of realizing, 'Wow, I'm going to be alone for an extended period of time,'" she said.
Later in the episode, Anna helped pregnant Jessa prepare for her baby shower, and later showed up to the event with baby Meredith, five months, in arms.
She insisted she was "excited" for her beaming sister-in-law, but confessed it was all bittersweet.
"Your mind goes back to a lot of happy memories, and you think, 'Oh that was a special time, and I do miss having Josh here right now."
She may not have much longer to wait. As RadarOnline.com reported, Josh's suspected rehab program, Reformers Unanimous in Rockford, Illinois, requires patients to stay for six months, meaning his stint will likely be over in late February.
Should Anna leave Josh? Sound off in the comments.