Exclusive
Justice For JonBenet! Local Cops & FBI Confirm Ramsey Murder Investigation Is 'Ongoing'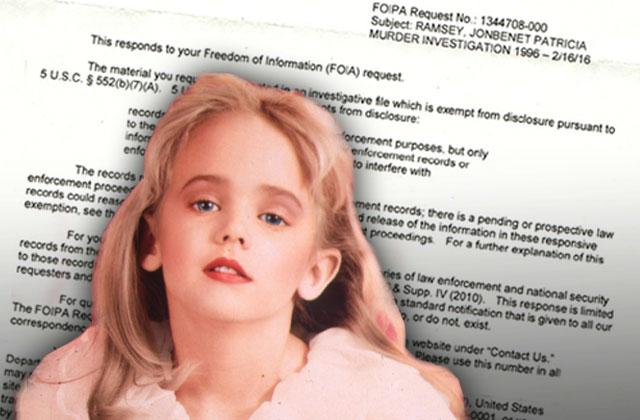 As the 20th anniversary of the brutal murder of JonBenet Ramsey approaches, RadarOnline.com has learned that the investigation is hardly a cold case. Multiple law enforcement authorities confirmed to RadarOnline.com that the case is ongoing — and so they're refusing to release records to the public!
Ramsey, then six years old, was slaughtered on December 25, 1996, in her Boulder, Colorado, home. Nearly two decades later, her killer has still not been named. But that doesn't mean the authorities are giving up.
Article continues below advertisement
Responding to a Freedom of Information Act request from RadarOnline.com, Boulder City Attorney Tom Carr revealed that all records related to the case "are part of an ongoing criminal investigation."
Confirming his statement, at the Boulder police department, the manager of records and information services, Patricia Raab, told RadarOnline.com, "The requested records are investigatory files and are part of an ongoing investigation, which I am withholding … on the ground that disclosure would be contrary to the public interest."
And even the FBI hasn't quite closed the book on the notorious case. Four months after RadarOnline.com filed a Freedom of Information Act request for copies of their case files, Section Chief David Hardy wrote to RadarOnline.com, "The material you requested is located in an investigative file which is exempt from disclosure" because it concerns "records or information complied for law enforcement purposes … that could reasonably be expected to interfere with law enforcement proceedings."
Article continues below advertisement
READ The FBI's Full Case Update
Hardy confirmed, "There is a pending or prospective law enforcement proceeding relevant to these responsive records."
As RadarOnline.com has reported, intense public interest in the case continues to put pressure on those searching for the child beauty queen's killer.
In one recent revelation, RadarOnline.com exposed the never-before-told details of JonBenet mom Patsy Ramsey's bombshell statements to Colorado prosecutors. Taken over the course of three days in June 1998, at the Broomfield Police Department headquarters, Patsy's interview revealed her claims that she had no idea her bed-wetting daughter was sexually abused well before the night of the tragedy. Patsy said she was "extremely surprised" and "shocked" when an investigator confronted her about the physical evidence during questioning.
One year later, a grand jury secretly voted to indict her and husband John Ramsey — on counts of child abuse, NOT murder. But Boulder DA Alex Haney refused to sign off on the indictment and the Ramseys were totally exonerated. Patsy died in 2006.
Do you think the case will ever be solved? Let us know in the comments!