Boulder D.A. Calls Predecessor's Decision Not To Prosecute JonBenet Ramsey's Parents 'Difficult,' Doesn't Know If He'd Have Done The Same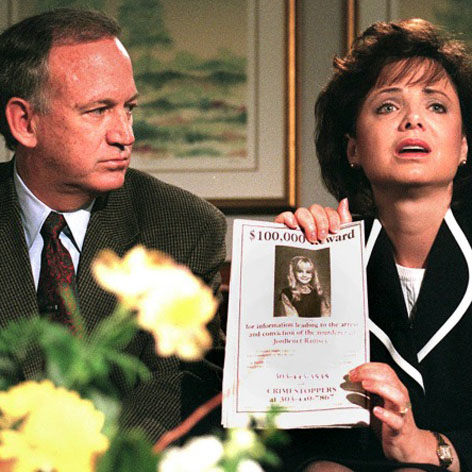 Boulder County, Colorado's District Attorney Stan Garnett is grappling with the most famous ruling his predecessor, Alex Hunter, ever made: his decision not to prosecute John and Patsy Ramsey in connection with the death of their daughter, JonBenet.
"I don't know if I would have made the same decision, but I know how difficult these decisions are," Garnett wrote in an opinion piece he penned for Boulder's Daily Camera newspaper.
Article continues below advertisement
Beauty queen JonBenet was found strangled and bludgeoned to death on December 26, 1996 in the basement of her family's Colorado home. Three years later, a grand jury voted to indict the little girl's parents on charges of "child abuse resulting in death" and being an "accessory to a crime, including murder."
Insisting there was not enough evidence to win convictions, Hunter refused to charge the pair.
The Ramseys always maintained their innocence -- Patsy died in 2006 after a long battle with cancer -- and they were publicly exonerated, based on DNA evidence, by Boulder's D.A. in 2008.
Last week's release of the grand jury's "true bills" has the case again under a microscope.
"These documents mean that this grand jury believed there was "probable cause" (a lower threshold standard of proof than "beyond a reasonable doubt" ) based on the evidence they had heard, that the named defendants had committed the crimes listed. That they were not pursued within the statute of limitations means that the DAs with the authority to do so believed that the evidence did not rise to the necessary level to prove guilt beyond a reasonable doubt at a jury trial," explained Garnett.
MORE ON:
Celebrity Justice
Article continues below advertisement
He also added that when he came into office in 2009, he instructed his staff to look at what the grand jury had recommended to see if his office should proceed with charges. It turned out the statute of limitations on the abuse and accessory charges had already expired, so the matter was dropped.
"My, or my staff's view of what the evidence in the Ramsey case proves will only be stated in open court if a case is ever filed. In the meantime, everyone, including the Ramsey family, is entitled to the full presumption of innocence," said Garnett.
John Ramsey's attorney, L. Lin Wood, says that no evidence in the grand jury case implicated the Ramseys and the public should be able to see that for themselves.
"Anything less than the release of all of the proceedings is a gross injustice to the Ramsey family," he said.
Eighteen years since her tragic death, no one has ever been charged in connection with JonBenet's death but the case continues to fascinate.