Ramen & Chopped Liver! Joe Giudice's Meager Prison Meals Revealed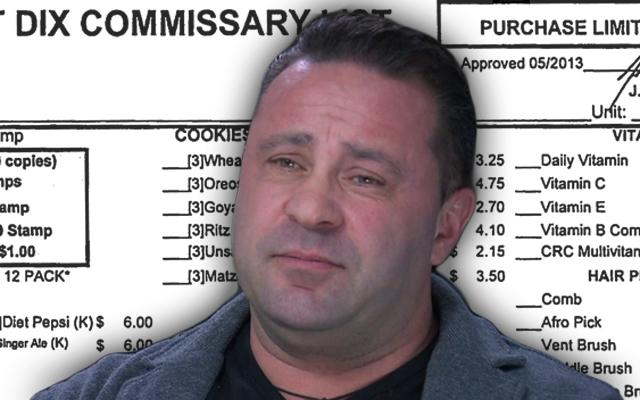 Article continues below advertisement
There's a wide array of food options including ramen, a chopped liver wrap, and several kinds of chips and cereal. Canned tuna fish, soda, and other nonperishable food items are available as well.
But according to a former inmate, Joe won't be able to just go shopping when hunger strikes.
"At Fort Dix, the commissary is in a small building away from most of the buildings so you have to walk fast to get there, or they can call your name and if you are not there, they will kill your order," former Fort Dix inmate Earl David told Radar.
David served 13 and-a-half months at the New Jersey institution, and said that more often than not, shopping at the commissary can be confusing.
Inmates are required to request their items in advance, he told Radar, and even making a slight error on the request sheet can result in losing the order altogether.
"You have to drop off the commissary sheet in a certain box before a certain time to be able to pick up your commissary during the week based on your number, and it rotates every three months," he said.
"Also, due to constant military planes flying overhead you may not hear your name on the speakers and then you will not get your order, either," he claimed.
In addition to snacks to keep his "Juicy" figure, Joe can buy other items such as a chess set, anti-fungal cream, a Sony radio and Ajax dish detergent.
Wife Teresa can give him tips on surviving the system, however. She just finished her own 11-month prison stint in December.