Sad Farewell: Joe 'Alone With His Thoughts' During Last Date Night With Teresa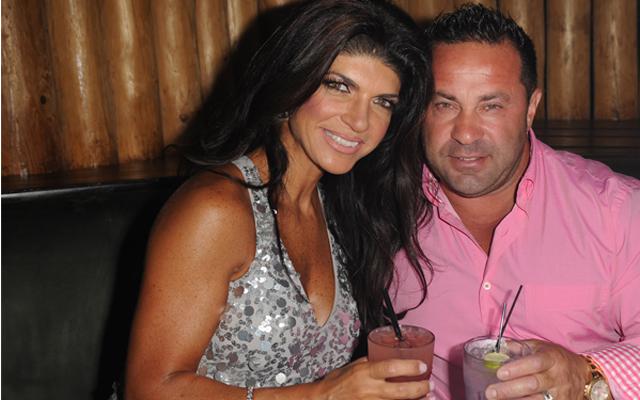 Teresa Giudice, 43, has already done her time, but it's almost her husband Joe's turn to turn himself in to begin his 41-month sentence.
With just days to go before Joe, 43, exchanges his jeans and sport jackets for a jumpsuit, RadarOnline.com has learned that the Real Housewives of New Jersey couple spent one last night out trying to enjoy their final hours together.
According to a witness, Teresa and Joe stepped out on March 15 to support their new costars Robyn Levy and Christina Flores's autism fundraiser held at Midland Brew House in Saddle Brook, NJ.
Article continues below advertisement
But what was supposed to be an fun evening was clouded by Joe's pensive mood.
"Teresa and Joe showed up together," a partygoer told RadarOnline.com. "But Teresa seemed more into the event than Joe."
"Joe, who is usually lively and gregarious, seemed totally unlike his regular, jovial self," the witness said. "He was out of sorts, quiet and didn't seem to be mentally present."
According to the witness, while Giudice buzzed around the room with her sister-in-law Melissa Gorga, 36, seemingly in good spirits, Joe slipped off and settled down in the VIP booth set up for the RHONJ stars.
"While he was sitting there, it seemed like he was alone with his thoughts," the source said. "It looked like he was worried and appeared very somber, even though every one else was having a fabulous time."
Even wine didn't seem to appeal to the convicted felon, who has said he hopes prison will help him cut back on drinking.
"I didn't seem him drinking anything all night!" the eyewitness said.
The partygoer claimed that although later in the evening, two champagne flutes sat in front of Joe and Teresa on the table in the VIP section, neither of the reality stars ever picked up the beverages and took a swig.
Article continues below advertisement
"They could have belonged to the other people sitting at the table," the witness said. "Maybe Joe is cutting down on his drinking?"
But one thing was clear, Joe was bothered by something.
"You could tell that Joe seemed worried about something," the witness said. "He wasn't concentrating on anything going on around him and had a gloomy look on his face."
His wife on the other hand, tried her best to stay positive.