Burn In Hell! Travis Alexander's Sister Rips 'Monster' Jodi Arias For Prison Payoff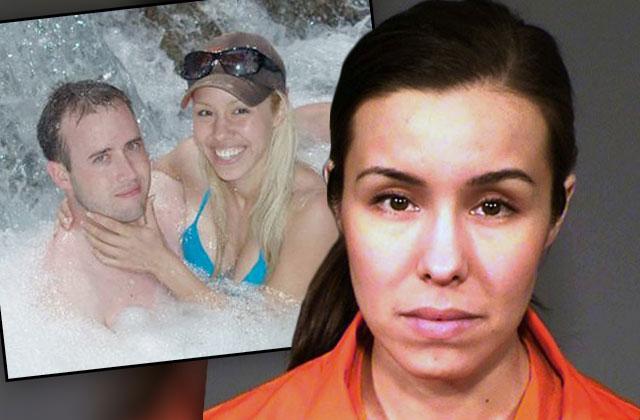 Jodi Arias is trying to pay her debt to society, and to the family of her victim, Travis Alexander. But after her second restitution check was sent to Alexander's family, RadarOnline.com has learned that they're furious!
Alexander's sister, Tanisha Sorensen, was present in the courtroom during the emotional trial where Arias was found guilty of the brutal slaughter of her brother. This week, she shared the paltry $531.01 check she received from the Arizona government for the killer's work behind bars.
Article continues below advertisement
"Well got my second check from that monster who murdered my sweet handsome brother Travis Victor Alexander," Sorensen wrote on the Facebook page The State vs. Jodi Arias.
Arias stabbed Alexander 29 times, slit his throat and shot him in the face in 2008. She has been incarcerated at the Perryville Prison in Arizona since her sentencing.
As RadarOnline.com reported, she has been flush with cash in her prison account, as she was buying sex toys, Beano and cans of sardines from the commissary since her incarceration began. Sorensen lashed out at Arias' cushy life behind bars, reminding the world of all she's lost.
Arias "will rot in prison for the rest of her pathetic life,"Sorensen wrote. "She will die in their sicand that brings me joy, never to see the beauty of the world again, never to enjoy the fine things of life, never to enjoy the holidays with her family again and that is exactly what she deserves for taking away our brother from us because if she couldn't have him she made it so no one could."
https://www.facebook.com/Justice4Travis/photos/a.226325870776896.54624.160510210691796/1185108871565253/?type=3&theater.
Article continues below advertisement
Arias was ordered by the court to pay the Alexanders $32,000. As RadarOnline.com exclusively revealed, she was given the job of "porter" behind bars, scrubbing the prison bathrooms.
Sorensen ended her note saying that Arias deserves life in prison without the possibility of parole, a sentence that Judge Sherry Stevenson issued after two juries could not come to a unanimous decision on her fate.
Sorensen continued, "I'm at peace knowing the monster is rotting in prison until the day she passes away from this life and enters into yet another prison where she will stay until she is sent to her eternal home in hell burning within the flames ?Keep the checks coming for you owe our family a lot more money for the nightmare you created for us. You might want to take it easy on scrubbing the toilets , you'll be doing it for the rest of your life , such a awesome job you have monster , so fitting for you. ? Just think of the life and job you could of had if you weren't a evil murdering spawn of Satan."
What do you think about Tanisha's note to Jodi? Sound off in comments below.
We pay for juicy info! Do you have a story for RadarOnline.com? Email us at tips@radaronline.com, or call us at (866) ON-RADAR (667-2327) any time, day or night.