Jax's Naughtiest Secret Revealed On 'Vanderpump Rules'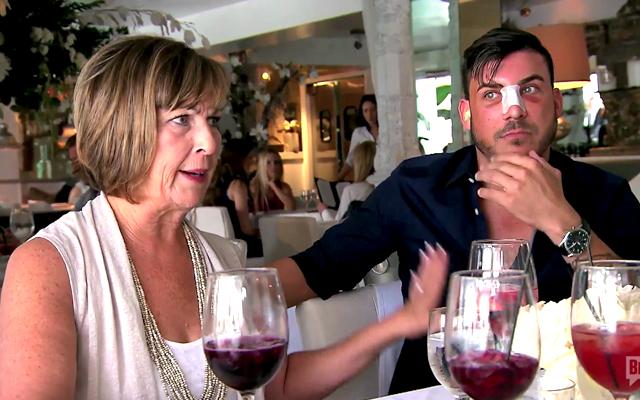 It's no secret that Vanderpump Rules bad boy Jax Taylor is far from an angel. But according to his mother, Taylor's naughty ways started long before he moved to Los Angeles!
In a preview clip for the premiere of Vanderpump Rules season 4, Lisa Vanderpump asks Taylor's mother about the "naughtiest" thing that he ever did as a child. And her response is shocking!
"Remember when you came in with the bus driver and she was crying?" Taylor's mom asks him while telling the group the story. "Beautiful blonde woman. Here's my 12-year-old's first experience with hitting on an older woman."
Article continues below advertisement
"She comes knocking at the door and she goes, 'I came down on the bus. I'm standing there and your son…' takes her in a dip and lays one right on her lips," his mother reveals.
But that wasn't the only "naughty" stunt he pulled as a boy: He also once stole a piece of jewelry from his sister, his mom said.
"When my daughter was 10, her aunt got her a beautiful, beautiful cross," she reveals. "Jax had a little girlfriend and it was her birthday. So he stole his sister's cross."
Unfortunately, Taylor recently pulled a similar scheme, according to Scheana Marie.
"He took Carmen's glasses from his apartment, wrapped and gave them to Katie for her birthday a few months ago," she claims.
Jax admits to the faux pas and adds, "And then Carmen saw them on Instagram!"
Indeed, he doesn't seem to show any shame about his bad boy ways.
In a confessional, Taylor also admits, "I used to forge my mom's signature on all my tests and I used to fake and copy my report card and change the grades. But I didn't feel bad, sorry mom."
Vanderpump Rules airs on Bravo on Nov. 2 at 9 PM EST.