Ex-Subway Pitchman Jared Fogle Placed On Home Arrest After Tense Hearing Over Underage Sex & Kiddy Porn Crimes –– 6 Latest Developments In Shocking Scandal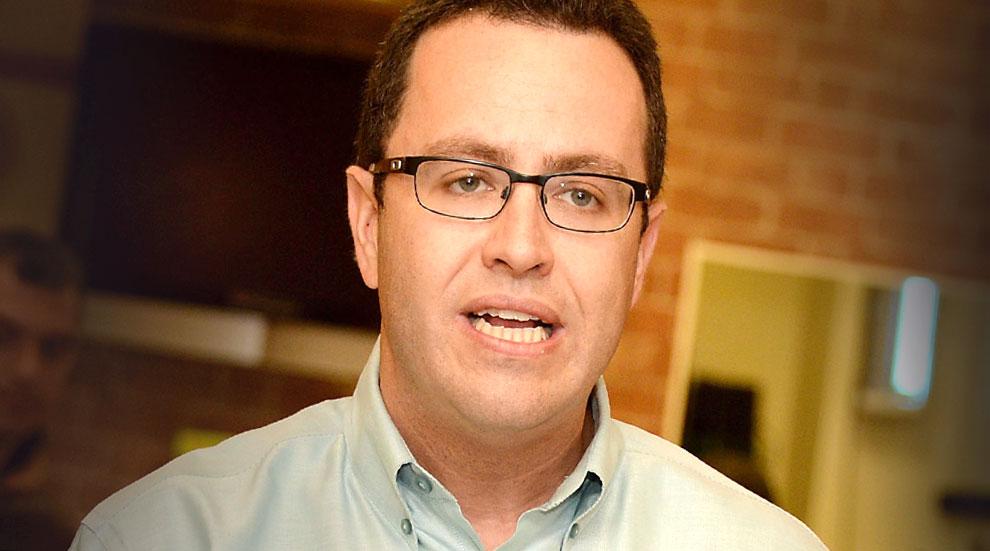 Prison-bound Jared Fogle was placed on home arrest following his hearing for child sex and porn crimes in Indianapolis Wednesday, and RadarOnline.com has the latest details.
Court Appearance
Fogle was placed on house arrest after he faced a judge in his court hearing at the federal courthouse in Indianapolis Wednesday, as news spread of his crimes following the release of court docs in the case. He must wear a GPS device, authorities said. Asked by the judge if he had any questions, a reportedly-fidgety Fogle answered 'No." He didn't enter his guilty pleas Wednesday, but is expected to in the near future, officials said. A date for that has yet to be released.
Article continues below advertisement
Criminal Confessions
Fogle, according to federal prosecutors out of Indianapolis Wednesday, has agreed to enter the guilty pleas to official charges of traveling to engage in illicit sexual conduct with a minor, and distribution and receipt of child pornography. The 37-year-old, as part of the agreement, will shell out $1.4 million to be distributed equally among 14 underage victims, receive counseling and register as a sex offender, court docs in the investigation state.
READ THE COURT DOCS HERE (WARNING: CONTENT IS GRAPHIC)
Prison Time Looming
Fogle will serve at least five years in prison, according to the court docs citing the agreement. Prosecutors will push for a sentence more than 12 years. The fallen celeb's lawyer Ron Elberger said there was no comment "at this time" regarding the shocking news. With his expected admissions, Fogle could face a maximum of 50 years in prison -- 20 for the child porn, and 30 for the sex acts. As RadarOnline.com reported, Fogle's wife Katie announced Wednesday she will look to file for divorce from the embattled father of their two children.
Article continues below advertisement
Involvement In Underage Prostitution
Fogle -- who's married with two children -- repeatedly sent texts to escorts over the course of two years seeking sex partners in the age range of 14-15, according to court docs. On Nov. 3, 2012, Fogle paid for sex with a 17-year-old girl while staying at New York's Plaza Hotel. He sent a text message to the underage escort the following day, looking for another escort who was at least 16-years-old or younger, adding, "the younger the girl, the better." Fogle was also involved in a Jan. 11, 2013 incident with the same girl, in which he paid for sex while staying at the Ritz Carlton Hotel. The girl told officials that she told Fogle she was underage prior to the sex acts taking place. Court docs state that the crimes had allegedly occurred over the past eight years, and Fogle strategically planned business trips around the encounters. He only enlisted escorts for recruiting help after something sexual had taken place, to "insure that they were not undercover police officers," court docs stated. Fogle utilized email and social networking sites to seek out escorts and erotic services, and used text messages to set up the actual encounters.
Kiddy Porn
Fogle, whose Zionsville, Ind. house was raided in July, received child porn from pal Russell Taylor for four years between March 2011 and April 2015, according to court docs. Fogle received videos, taken in other countries, from Taylor depicting children as young as 6-years-old. Fogle also got videos Taylor made, using hidden cameras, showing kids as young as 13 changing their clothes or washing up, and knew and approved of how the clips were made. Fogle knew the victims were underage and knew some of them by name, according to court docs, and had made their acquaintance "during social events in Indiana." Taylor, who served as head of Fogle's childhood obesity charity, the Jared Foundation, was arrested in May on related charges, at which time Fogle said in a statement that he "was shocked to learn of the allegations against Mr. Taylor and effective immediately, was severing all ties with Mr. Taylor." Taylor, who's tried to kill himself while in prison, is expected to be indicted by a grand jury no later than Sept. 3.
Subway Severs All Ties
The restaurant announced this week that it was cutting all ties to Fogle after suspending him following the home raid. Fogle shot to fame shilling for the restaurant, boasting of losing 200 pounds while solely eating their food. Since 2000, when their partnership with Fogle began, the brand had substantially grown, tripling their amount of locations. The Milford, Conn. corporation did not detail any settlements made with Fogle in the split.