Presidential Election 2016
Hillary PANICKED Over Monica Lewinsky Tell-All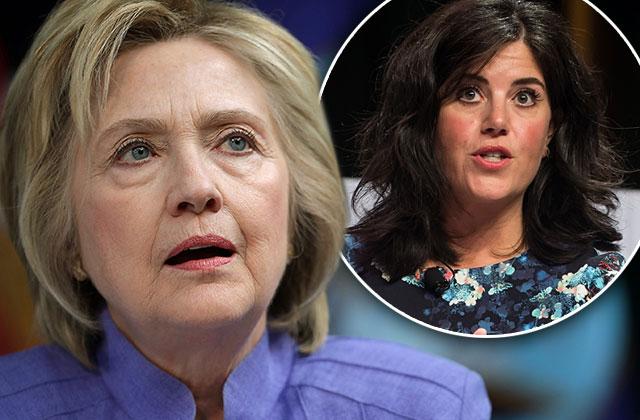 Hillary Clinton was so worried about having her dirty laundry aired out during her time as Secretary of State, the 68-year-old had aides debrief her on all Clinton-related books and shows, newly leaked emails reveal.
After WikiLeaks released more than 1,000 messages from Hillary's private email server yesterday, it was revealed that the prez hopeful's then Counselor and Chief of Staff, Cheryl Mills, was tasked with pouring through Taylor Branch's salacious book, The Clinton Tapes: Wrestling History in the White House, as well as PBS' documentary series, American Perspective.
Article continues below advertisement
"There are few surprises in this book," Mills said of Branch's tell-all, adding that that author refrained from disclosing certain information about Monica Lewinsky for fear of becoming a "witness" against Bill Clinton's infamous mistress.
Later in her summary, Mills delivered some good news to Hillary, noting that Branch failed to include a proper index in his book, making it much more difficult to find specific references to the Clinton's career history.
As for PBS' docu-series, WikiLeaks revealed that in 2012, Hillary had aide Robert Russo print an article slamming the network for its slanted portrayal of the Clinton legacy.
"How unfortunate, in my view, for PBS' reputation and the integrity of its American Perspective series on the presidency," the article's author, Lanny J. Davis, wrote of the show. "And how unfair to Bill and Hillary Clinton."
Do you think Hillary is still desperate to take control of her image? Will WikiLeaks ruin her 2016 presidential campaign? Let us know what you think in the comments below.