Tragic Discovery: Heath Ledger's Eerie Note In 'Joker' Diary Revealed – 'Bye Bye'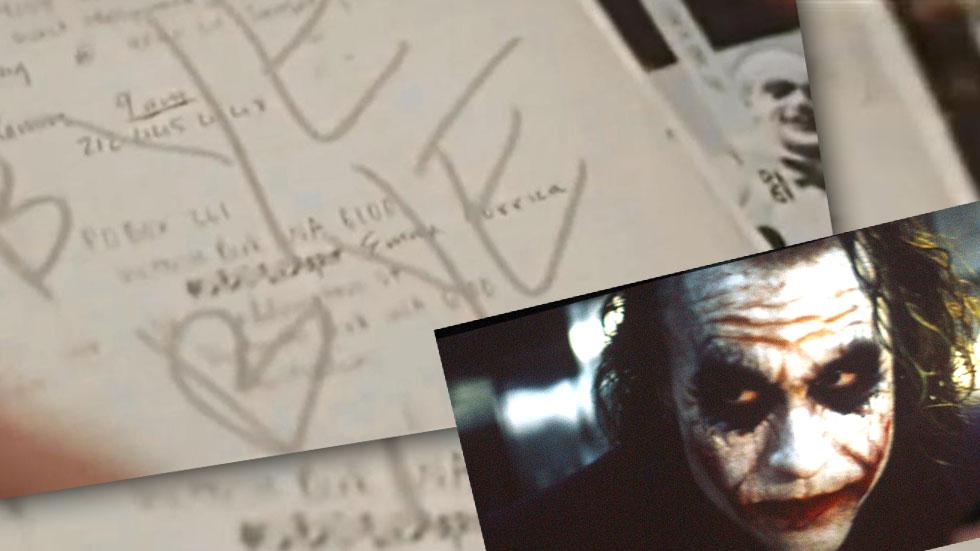 Seven years after the untimely death of Heath Ledger, a journal he used to prepare for his infamous role as the Joker in The Dark Knight has resurfaced for a new documentary.
In Heath Ledger: Too Young To Die, a German docu-series, the late actor's father Kim shares select entries, providing insight into Heath's tortured final days.
"This is the diary," Kim says, opening a red and blue book containing scribbled notes, drawings, photographs of clowns and comic books clips.
Article continues below advertisement
"He pretty well locked himself up in a hotel room for weeks,' Kim explains. "He galvanized the upcoming character. That was typical of Heath. He would do that. He liked to dive into his characters, but this time he really took it up a notch."
Heath's diligent preparation for the role is most evident in an ominous makeup test photo found within the pages of his journal, on which the then 28-year-old scribbled the words "Bye Bye."
"It was hard to see this," Kim says of the picture.
Heath was just 28 when he was found unresponsive in his New York home in January 2008.
While his death was ruled accidental, the journal reveals that Heath was struggling deeply with the perverse role.