Gwen & Gavin's Divorce File: Court Documents Reveal Secrets Of Stefani & Rossdale's Split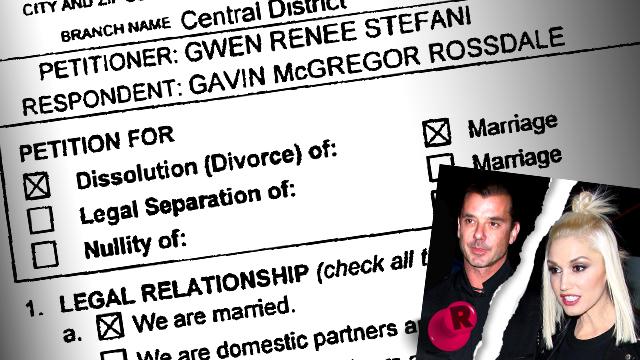 Gwen Stefani and Gavin Rossdale's bombshell split has stunned fans, and now RadarOnline.com has the inside details of the unfolding divorce -- straight from the court filings.
According to documents obtained by Radar, Stefani filed for divorce on August 3 in Los Angeles, and did not cite a date of separation.
Claiming irreconcilable differences, she requested joint legal and physical custody of their children, Kingston, 9, Zuma, 6, and Apollo, 17 months.
Article continues below advertisement
She asked that she not be required to pay spousal support to Rossdale.
READ The Bombshell Divorce Documents
The couple reportedly had no prenup, and will split their approximately $135 million net worth, of which $80 million is Stefani's.
Just six months ago, Stefani teared up describing what many thought was a happy marriage.
"If I look back on the whole thing, the one thing that's been constant is that we both want the same thing," she said on the Today show in January. "We both want to be married. We both want to be good parents, and so I feel really proud of what we've done together… You're gonna get me crying!"
For his part, Rossdale said the same month, "She's such a great person that I think she's taught me how to be a better person."
But he hinted at troubles in the interview with Rolling Stone. "She's so successful and so good at what she does that it always keeps you in check at the house," he said. "You might come in with two of something, and she's got 12 of something. You can never get over-excited, there's something about that."
For more on the split stay with Radar.