Exclusive
FBI Probe: Glen Campbell's Raging Family At Center Of Elder Abuse Investigation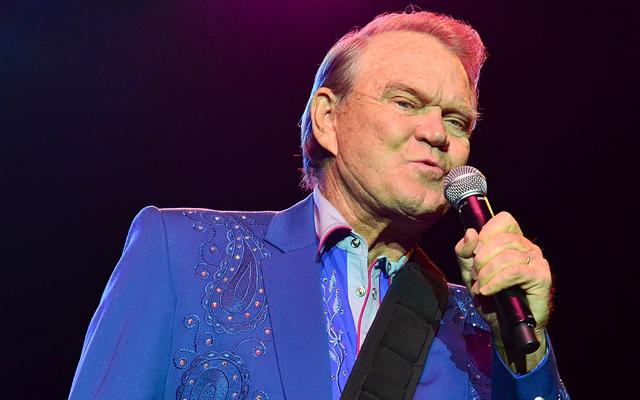 RadarOnline.com has learned Alzheimer's-stricken country star Glen Campbell is at the center of a bitter family fight that's resulted in a federal investigation.
Travis Campbell, son of the 79-year-old "Rhinestone Cowboy" singer, claimed to Radar that his stepmother, Kim, who wed Glen in 1982, is the target of a probe.
"We have turned over information to authorities, the FBI and district attorney in two different states to prove that she's mismanaging his finances," he said. "We need to find out some things about what she's doing with the cash."
Article continues below advertisement
Kim's lawyer said Travis' claims were entirely false.
Kim, said the lawyer, "is unaware of any type of investigation. In the conservatorship lawsuit, an independent guardian investigated and found no impropriety, no elder abuse and no compromise to Glen's health or safety."
The "Gentle on My Mind" star, worth a reported $50 million, has been married four times and is the father of five sons and three daughters.
The family feud erupted when Travis and half-sister Debby – Glenn's oldest kids – filed a lawsuit in 2015 alleging Kim was "secluding" him and asked the courts to step in.
"We had not seen Dad for almost eight months," Travis said, adding that he found out only through media reports that his father was living in a nursing home. "We only wanted a judge to appoint an outside third party as a financial conservator – and Kim spun to the press that we wanted money, which could not be further from the truth."
Article continues below advertisement
The suit also outlined how several of Glen's children were not on his approved visitor's list – but Kim and Glen's children together, Cal, Shannon and Ashley, all had ample access.
"All she has to do is let us see Dad, just like her kids," Travis told Radar. "They can go in and out anytime they want."
Travis regularly travels from his home in Wichita, Kan., to Nashville, Tenn., where his dad has been in and out of nursing facilities during the final stages of his six-year battle with Alzheimer's disease.
"I don't see Kim," Travis confessed of his visits to Glen. "The only conversation we have is via text. I have to give her seven days notice before visits. All she ever had to do was let us see Dad. Is that too much to ask?"